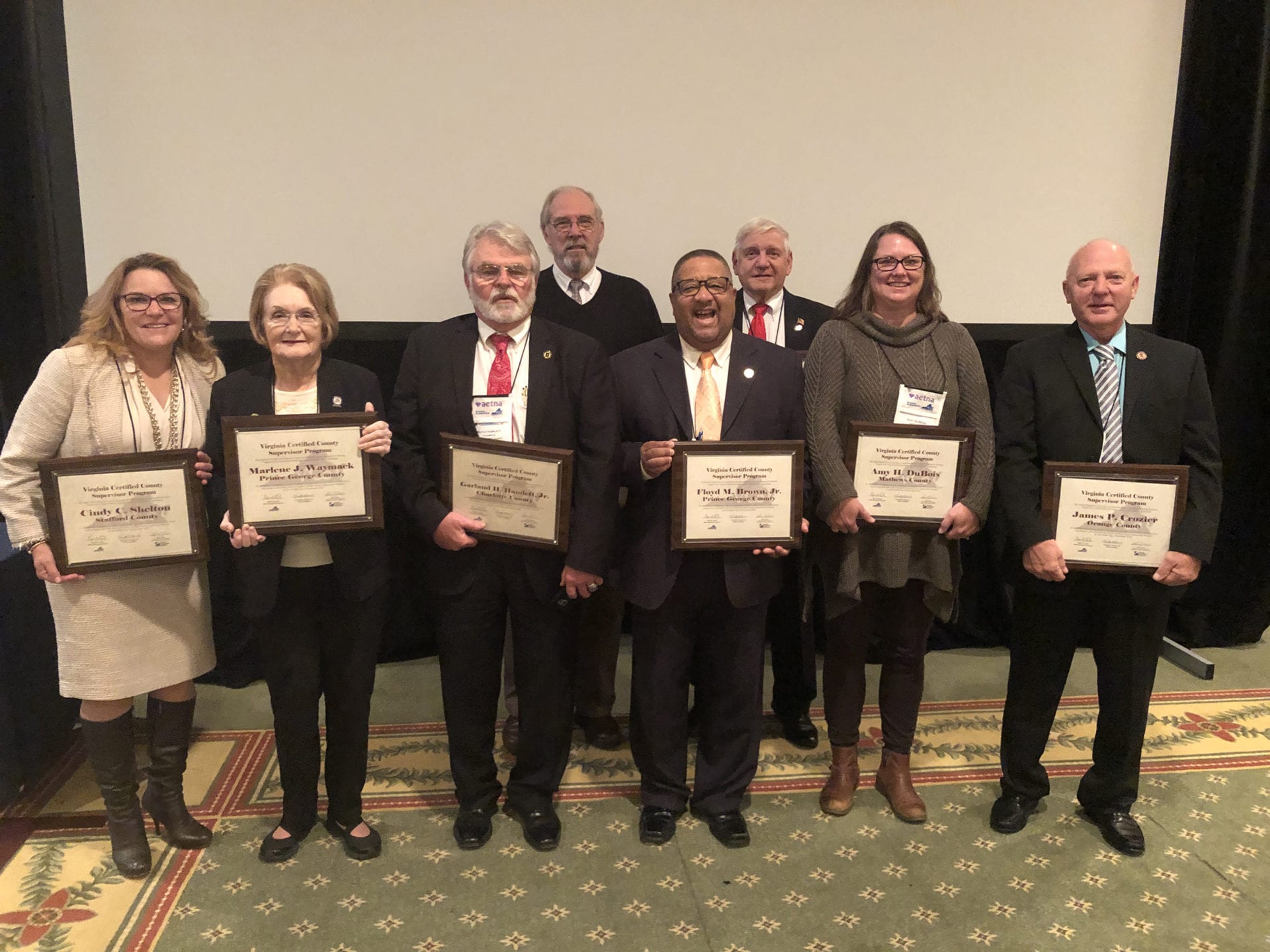 The Virginia Association of Counties, in partnership with Virginia Tech, offers the Virginia Certified County Supervisors' Program: an opportunity for county supervisors to learn how to more effectively and efficiently lead in their communities.
Since its inception in 2005, 70 supervisors representing more than 40 counties have completed this training program, earning credentials as a certified county supervisor. Of greater importance, each supervisor has gained the insight, perspective, and confidence needed to address the challenges and opportunities of the local governance experience.
The Virginia Certified County Supervisors' Program features a five-course curriculum, designed to maximize engagement and enhance scholarship. Each course begins with a six-hour topically driven, classroom session, followed by an eight-week home study experience. Course participants are assigned relevant articles and books, completing assignments drawn from these readings on a weekly basis. The final component of each course is a concluding six-hour classroom session, which includes a review of the reading and assignment material.
---
Good Governance: The Role of Leadership
Opening Session | 10 AM | Friday, March 13, 2020 | Albemarle County Office Building
Closing Session | 10 AM | Friday, May 15, 2020 | VACo Training Center
Cost: $350
Registration Form | Register Online
Registration Deadline | March 1, 2020
---
Managing While Leading: Understanding Your Powers, Duties, and Responsibilities
Opening Session | 10 AM | Friday, May 29, 2020 | Albemarle County Office Building
Closing Session | 10 AM | Friday, July 24, 2020 | VACo Training Center
Cost: $350
Registration Form | Register Online
Registration Deadline | May 15, 2020
---
Funding Public Services: The Role of Budgeting
Opening Session | Friday, September 4, 2020 | Albemarle County Office Building
Closing Session | Friday, November 6, 2020 | VACo Training Center
Cost: $350
Registration Form | Register Online
Registration Deadline | August 20, 2020