Mike Chandler, Ph.D.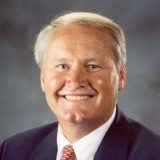 Phone: 804.794.6236 | Email: rmchan@vt.edu
Michael Chandler is Director of Education for the Land Use Education Program (LUEP) at Virginia Tech, a planning/management consultant, and a Professor Emeritus in the Department of Agricultural and Applied Economics at Virginia Tech. In his LUEP role he conducts the Virginia Certified Planning Commissioners' Program, the Virginia Certified Boards of Zoning Appeals, the annual LUEP Commonwealth Planning and Zoning Conference, as well as other training and educational offerings. He assumed this position following his retirement from Virginia Tech.
During his nearly 28 year career with Virginia Tech, he was responsible for the design, delivery and evaluation of off-campus extension and continuing education programs focused on community planning, land use and public management issues. Prior to joining the faculty at Virginia Tech, Dr. Chandler worked two years as a legislative research specialist in Georgia, five years as a land use planner/community development agent in selected Virginia localities and two years as a high school government teacher.
Dr. Chandler attended Old Dominion University in Norfolk, Virginia where he received the Bachelor of Science degree in Secondary Education. He continued his formal education at Virginia Polytechnic Institute and State University (Virginia Tech) where he was awarded the Master of Urban and Regional Planning degree. Dr. Chandler's formal education also includes a Doctor of Philosophy in Public Administration from the University of Georgia.
Dr. Chandler was a member of the Blacksburg Planning Commission for three years (two years as chairman) prior to his election to the Blacksburg Town Council in 1984. He was re-elected to a fifth term in 2000 and served on the Council through December 31, 2002. He resigned his seat upon relocating to Chesterfield County in 2003. Dr. Chandler is active in several state and national professional associations. From 1992 to 1994, Dr. Chandler served as President of the Virginia Citizens Planning Association. He also served a two year term (1996-98) as President of the Virginia Chapter of the American Planning Association (VAPA). From 2000-2004, he served on the American Planning Association National Board of Directors. In addition to providing planning/management consultative services in Virginia, Dr. Chandler has presented planning commission and board of zoning appeals training programs and seminars in 42 states since 1990.