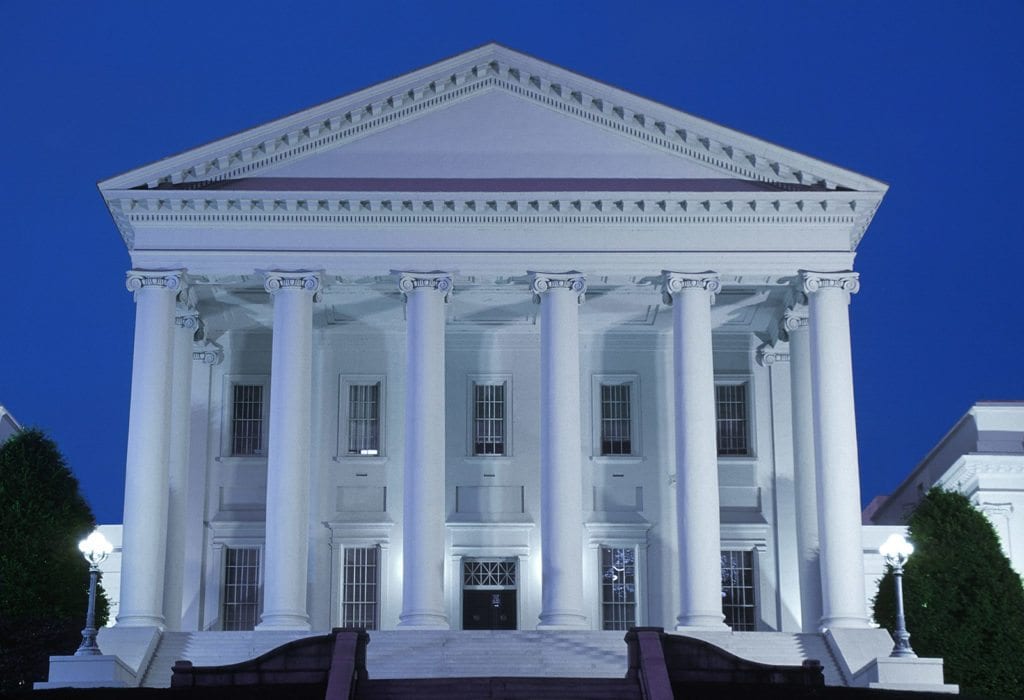 The General Assembly approved compromise conference reports on the FY 2020 "caboose" and 2020-2022 biennium budgets on Thursday, March 12.  Conferees struck an agreement on the budgets late on Saturday, March 7, and legislators agreed to return on March 12 in order to allow time for members to review the conference report prior to voting on it.  Both budget bills passed by comfortable margins; however, several members of the Senate expressed concern in floor debate about potential economic repercussions of the coronavirus outbreak and urged that the legislature pause to reassess market conditions before approving the budget and sending it to the Governor.  Senate Finance and Appropriations Chair Janet Howell suggested that the budget conferees continue to meet in advance of the April reconvened session to prepare recommendations for the Governor to revise the budget in case revenue projections need to be reassessed.  It is important to note that the compensation actions included in the budget are contingent on revenues meeting projections.
Below is a summary of the key provisions of the budget conference report of interest to county governments.  In addition, an analysis of the conference report's provisions related to Constitutional officers prepared by the Executive Secretary of the Compensation Board is available at this link.  The Superintendent of Public Instruction's memorandum of March 13, 2020, is available at this link; calculation templates for projected state payments are available at this link.  VACo will provide FY 2021 estimates of local option sales and use tax and recordation and grantor's taxes to be distributed to localities when those estimates are available from the Department of Taxation.
The Governor's deadline for action on the budget and on bills that passed the General Assembly in the last week of the session is midnight on April 11.  The General Assembly is scheduled to meet on April 22 to consider the Governor's amendments and vetoes.
K-12 Education
Compensation and Retirement
Provides $837,291 GF in FY 2021 and $993,932 GF in FY 2022 to fund the state share of costs associated with providing a retiree health insurance credit of $1.50 per year of service to certain retired school division employees who are not teachers, pursuant to HB 1513 (McQuinn). (Item 145 #8c)
Provides $3.9 million GF in FY 2021 and $4 million GF in FY 2022 to reduce the amortization period for the retiree health care credit for state employees by five years. (Item 477 #3c)
Subject to revenue contingency language providing that no downward revision of the biennium revenue forecast is made after the close of FY 2020, funds the following compensation actions:
For state employees, provides a three percent bonus effective December 1, 2020, and a three percent salary increase effective June 10, 2021.
For Constitutional officers and their employees and state-supported local employees, provides a two percent bonus, effective December 1, 2020, and a three percent salary increase, effective July 1, 2021.
For sworn employees of the Department of State Police with three or more years of continuous state service, provides $110 for each year of service up to 30 years, effective August 10, 2020, as well as a two percent salary increase effective the same date. (Item 477 #5c)
Directs the Chief Workforce Development Advisory and the Secretary of Commerce and Trade to study the development of a statewide paid family and medical leave program for all employers. (Item 111 #1c)
Provides $144,000 in each year pursuant to passage of HB 1495 (Torian) / SB 54 (Cosgrove) to allow retired law-enforcement personnel to return to work as school security officers. (Item 477 #6c).
Judiciary/Public Safety
Agriculture and Forestry
Elections
Retains the Governor's proposal to include $2.5 million GF per year in FY 2021 and FY 2022 to provide full reimbursement for the salaries of general registrars and electoral board members, as well as $5.9 million GF in FY 2020 to fund costs associated with the presidential primary.
Directs the federal Help America Vote Act funding awarded to Virginia in December 2019 to be used for replacement of the Virginia Election and Registration Information System (VERIS) and provides required state match. Permits the Department of Elections to consider using any leftover funds to assist localities in complying with the IT security standards established as part of 2019 legislation.  Budget amendments had been introduced in the House and Senate at VACo's request to direct these funds to localities to assist with IT compliance, but were not successful. (Item 83 #2c in caboose, Item 86 #3c in biennium budget)
Economic Development
Broadband
Retains Governor's proposal for additional appropriations to the Virginia Telecommunication Initiative (VATI) of $16 million GF per year, for total funding levels of $35 million per year; sets aside additional $275,000 per year from this appropriation for administrative costs. (Item 114 #2c)
Includes language specifying that language specifying that appropriate levels of investment from private sector partners are to be part of the criteria for making Virginia Telecommunication Initiative awards. (Item 114 #2c)
Housing Trust Fund
Reduces proposed deposit to the Housing Trust Fund by $10 million, which would result in a total deposit of $30 million in each year. Adds the expansion of permanent supportive housing as a priority in awarding grants from the Trust Fund. (Item 113 #4c, Item 113 #2c)
Aid to Local Public Libraries
Provides $1 million GF per year in additional aid to local public libraries. Eliminates $500,000 per year set-aside for the Eastern Shore Public Library. (Item 247 #1c)
Children's Services Act
Removes two percent cap on growth in rates for private special education day placements in FY 2022. Moves funding for a second round of data collection for the rate study that was partially completed in 2019 from the second year of the biennium to the first year and directs the Office of Children's Services to implement statewide rate-setting, effective July 1, 2021.  (Item 292 #2c, Item 293 #1c)
Behavioral Health
Social Services
Natural Resources
Transportation
Directs the Secretary of Transportation and the Secretary of Natural Resources to evaluate the issue of drainage outfalls originating from VDOT-maintained roads without an assigned maintaining entity and recommend cost-effective funding solutions. VACo requested this study language.  (Item 430 #3c)
Provides $47.1 million NGF in FY 2021 and $51.4 million NGF in FY 2022 pursuant to the passage of HB 1541 (McQuinn) which creates the Central Virginia Transportation Authority, composed of the counties and cities located in Planning District 15, which will administer transportation funding generated through an additional regional sales and use tax and wholesale gas tax. (Item 440 #1c).
Reserves
Corrects amount appropriated for a voluntary deposit to the Revenue Reserve Fund to reflect a reduction in the deposit of $74 million in FY 2020. (Item 266 #1c in caboose)
Deposits an additional $182 million to the Revenue Reserve Fund in FY 2020, which may be used for any mandatory deposit to the Revenue Stabilization Fund if necessary. When added to the deposits proposed in the 2019 Appropriations Act and the Governor's introduced budget, a total of $601.2 million would be deposited in the Revenue Cash Reserve. (Item 266 #2c)
Other
VACo Contacts: Katie Boyle; Jeremy Bennett; Chris McDonald, Esq.; Joe Lerch, AICP