May 4, 2015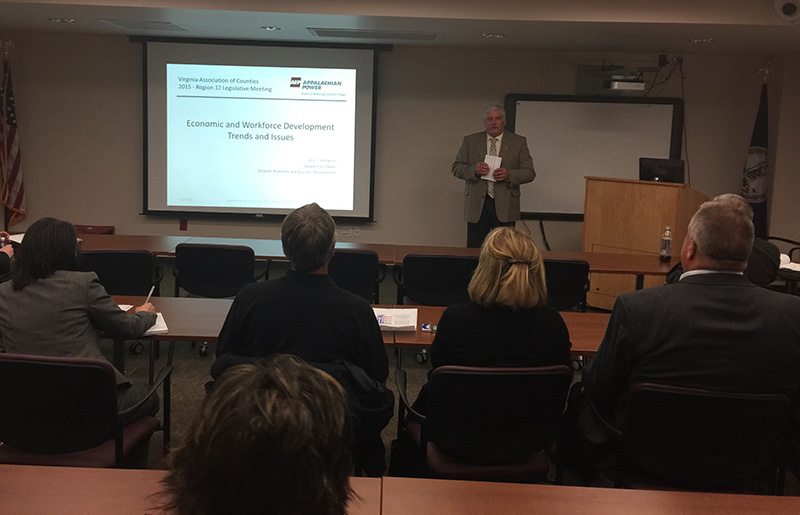 Wythe County Supervisor and VACo Region 12 Director Tim Reeves opens the meeting on April 22. Click here to view the meeting agenda.
County leaders convened on April 22 in Wythe County to share and discuss issues affecting their localities. One issue dominated discussion – the need for counties to have equal taxing authority.
Most attendees agreed that increased state and federal mandates along with economic challenges have left counties with very limited options to meet service demands. County representatives in attendance stated a desire to have the same taxing power as cities, in order to have the option to rely less on property taxes. The law that limits counties taxing authority is outdated, they said, and needs to be reformed since counties now share many of the same service responsibilities as cities.
Wythe County expressed its hope to have a cigarette tax option since the locality is home to several major truck stops that sell a high volume of cigarettes.
VACo's Region 12 Legislative Meeting was the second such event recently held. The first was the Region 13 Meeting in Wise County on April 8.
Carroll County Supervisor and VACo President-Elect David Hutchins attended the Region 12 Meeting and urged his fellow elected official to be active in the legislative process.
"One elected official going and speaking in front of the General Assembly or before any other elected body is probably worth several non-elected officials (speaking before legislators)," Hutchins said.
The other major topic that resonated across the region was the need to attract and retain a workforce that can meet the needs of current and future businesses. John Smolak, Director of Economic and Business Development for Appalachian Power, gave a presentation that gave an overview of the economic and workforce development issues in the region. Click here to view his presentation and click here for more information about the meeting, including video of the event.
VACo thanks Wythe County Supervisor and VACo Region 12 Director Tim Reeves for making the event a success. VACo also appreciates event co-hosts: Nationwide, the Mount Rogers Planning District Commission and Wythe County staff for their help organizing the meeting.
VACo Contact: Erik Johnston, CAE