December 18, 2013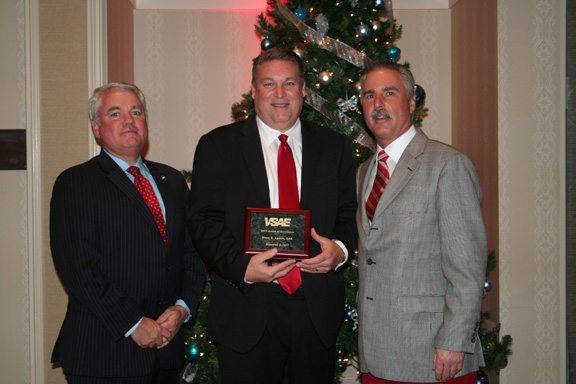 VACo Deputy Executive Director Dean Lynch recently was honored along with three others by the Virginia Society of Association Executives (VSAE).
Three VSAE members and a guest were recognized with the highest awards given by the association.
Dean A. Lynch, CAE was presented the Association Staff Award of Excellence.  The Award is given to an outstanding association staff professional who has been nominated by peers in recognition of his or her contributions to their association.
Dean has invigorated the VACo lobbying efforts by restructuring the legislative team and applying a proactive hands-on approach. He has been an effective mentor to younger members and has built a vision for the association including developing a strategic plan for VACo's future.
He has served VACo for 19 years, first as the Director of Intergovernental Affairs, evolving into a highly respected expert on health and human service issues within local governments and on association management issues within VACo.
In 2004, Governor Mark R. Warner appointed Dean to his cabinet as Deputy Secretary for Health and Human Resources.          Dean has been active in VSAE for many years, serving recently as the chair of the Expo Committee.
Steve Akridge, Executive Director, Virginia Automotive Association (VAA), Midlothian, was presented the CEO Award of Excellence. The Award is given to an outstanding association professional who has been nominated by peers in recognition of his or her leadership and achievement.
Steve has served VSAE and the association community for many years. His thoughtful leadership, professional demeanor and outgoing personality have made him a valuable asset to VAA and VSAE.
As President of VSAE he facilitated the development of a bold plan to improve the image and effectiveness of the association.  He was able to build consensus among the Board of Directors, develop a strategic plan for our future, and enlist member support for the vision.
Steve is a consummate professional, who is dedicated and enthusiastic in all he does.
Bob Hudson, Senior Sales Manager, Hilton Richmond Hotel & Spa at Short Pump, Richmond, was presented the Associate Member Award of Excellence.         The award is presented to an outstanding supplier to the association industry who has been nominated by peers in recognition of leadership and achievement.
Bob is a long-time, dedicated member of VSAE. As he climbed the hospitality industry ladder of success, he has consistently maintained his membership within the association as he transitioned from one company to the next. Bob not only has been a great asset to his employers and to VSAE, but also to the association representatives he comes in contact with
He is both professional and enlightening and makes an association feel welcomed and important. He has served on numerous committees, is a valuable and dependable volunteer, continuously supports VSAE functions, professionally serves industry consumers and is an all-around well-liked gentleman!
Carolyn Blanchard, Conference Concierge, Colonial Williamsburg Hotels, Williamsburg, was presented the Career Service Award of Excellence.
The award is presented to an individual who through hard work, pleasing personality, and dedication to his/her job, has provided exceptional service over the years to the Association community. VSAE utilizes this award to recognize those outside of the membership who have distinguished themselves among their peers through their leadership qualities and professionalism.
Carolyn will celebrate her 45th year with Colonial Williamsburg Hotels during the summer of 2014 at which time she is planning her retirement. During her tenure she has served in several different capacities but always with great enthusiasm and professionalism.
She is often asked for by clients of continued business to assist with their conventions.  She has often been referred to as the #1 "Red Coat" during annual meetings always the conscientious, professional and committed Conference Concierge. Her dedication and generous willingness to make sure conference needs are met. Her clients know they are in good hands when she is "on deck".
Virginia Society of Association Executives is the collective voice for association executives in Virginia. Since its founding in 1949, it has been the only association in Virginia which serves the state's association management industry. VSAE focuses its resources on the professional development needs of its members by providing information, education and ideas to assist association executives in their profession. For more information please visit vsae.org.