September 17, 2013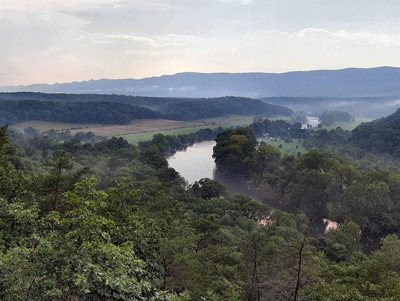 The Shenandoah River State Park is on the South Fork of the Shenandoah River and has more than 1,600 acres along 5.2 miles of shoreline. The park opened in June 1999. In addition to meandering river frontage, the park offers scenic views of Massanutten Mountain to the west and Shenandoah National Park to the east.
A large riverside picnic area, picnic shelters, trails, river access and a car-top boat launch make this a popular destination for families, anglers and canoeists. Ten riverfront tent campsites, a campground with water and electric sites, cabins, camping cabins and a group campground are available. With more than 24 miles of trails, the park has plenty of options for hiking, biking and horseback riding.
The park's hours of operation are between 8 a.m. and dusk. NOTE: The park is a Trash Free Facility – refuse must be removed by park visitor. A central refuse collection area is at the Cullers Overlook.
Shenandoah River State Park, 350 Daughter of Stars Drive, Bentonville, VA 22610; Phone: 540.622.6840, Fax: 540.622.6841; E-mail, shenandoahriver. Learn more about park offerings by calling 1.800.933.PARK or e-mail reservations. Be sure to specify the park of interest.