February 16, 2015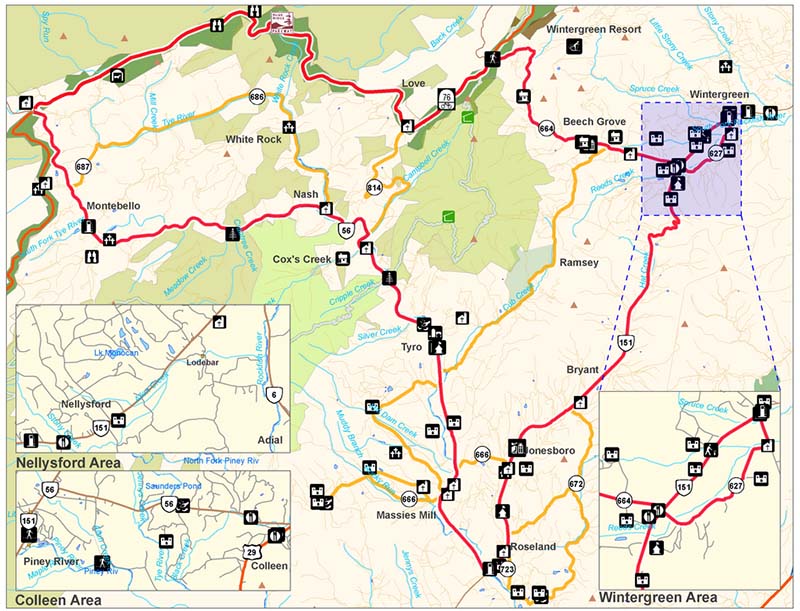 Attention history buffs, naturalists, architectural hounds, hikers, and wine aficionados! The Nelson Scenic Loop—comprised of four scenic byways—is a 50-mile auto and bike tour that features Nelson County's bounty of natural, cultural, and historic attractions.
Encompassing the Blue Ridge Parkway, Rockfish Valley Highway (VA Route 151), Beech Grove Road (County Route 664) and Crabtree Falls Highway (VA Route 56), the Nelson Scenic Loop traverses both the verdant foothills of the Piedmont as well as the summits of Virginia's Blue Ridge Mountains.
Commence your journey at the Rockfish Valley Foundation Natural History Center at Spruce Creek Park on Route 151 in Wintergreen, Virginia. The Visitor Center showcases the loop and its associated points of interest. While there, learn about the 1969 tragedy of Hurricane Camille, and stroll the adjacent Rockfish Valley Foundation trails.
Discover History
Along the loop, you can encounter the landscape that was shaped by the clash of two planter cultures – the Scotch-Irish and Anglicans – who left a legacy of diverse farming practices, architecture, and local craft. There are a number of registered national historic landmarks. These properties are not open to the public so please honor the privacy of the owners.
Experience Natural Wonders
The Nelson Scenic Loop extends along the steep, narrow valleys and wider floodplains carved by the Tye and Rock fish Rivers. The region's fertile soils have been used to raise a special dark leaf tobacco and distinct apple varieties popular around the world. Today, apple orchards, wineries, and breweries along the loop perpetuate Nelson's agrarian heritage.
Scenic and natural wonders also abound. Hike the Appalachian Trail, visit Crabtree Falls, or stop at a scenic overlook along the Blue Ridge Parkway, while witnessing colorful fall foliage or abundant spring floral displays of native azaleas, rhododendrons, and mountain laurel.
Support Local Enterprise
The Nelson Scenic Loop is your ticket to visit local potters, painters, and burl wood artists in their studios, while enjoying local food and wineries, breweries and cideries along the route. The total loop is 50 miles. In addition there are many scenic spurs and related points of interest.
Information and Photos Provided by www.rockfishvalley.org.