March 6, 2014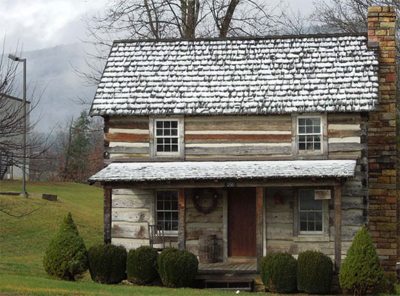 The Keffer Log House (two-story dwellings are called houses, not cabins!) was rebuilt during the summer of 1999 by Roger Davis of Montana and Robert Echols of Happy Hollow. Mr. Echols lived next door to the Keffers when he was young.
The lot on which this cabin is located was the horse corral used by men coming to Court in New Castle. The adjacent property has a clause in its deed stating "there shall always be a path to the creek to water the horses." The path and John's Creek are behind the cabin.
The most recent acquistion is a trundle bed from the estate of Ruth Martin Wills, originally from Sinking Creek. Her child's chair hangs on the wall above it.
The Hawkins-Brizendine Cabin was built in 2000 of logs from the funeral home given by Buddy Boitnott and from the Hawkins homeplace on Rt. 614 given by Ashby & Flo Eakin. Workers included Bob Echols, Edwin & Curtis Abbott, Wes Carper, George Feild, David & Shakey Boitnotte, Lewis DeQuino as well as advice and equipment from many others. Cabins can be visited Fridays 1–4 p.m. April – November or by calling 540.864.5489, 540.864.5004 or 540.864.7485.