January 16, 2015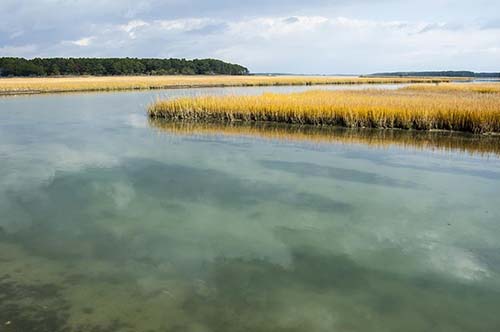 Virginia's Eastern Shore Names Its Artisan Trail
Accomack & Northampton Counties, VA: The Artisans Center of Virginia (ACV), in partnership with citizens on the Eastern Shore of Virginia, celebrates the naming of the newest artisan trail in the Virginia Artisan Trail Network system:
Virginia's Eastern Shore Artisan Trail
Explore Our Creative Bounty between the Chesapeake & Atlantic
After six months of community meetings, lunch & learns and an exciting amount of creative input with consideration by key stakeholders and the trail's management team, consensus led to the branding of their artisan trail.
"Inspired by the diversity of the landscape and its people, the creativity on the Eastern Shore, be it through art, food, drink or history is limitless. Following the trail enables everyone to drink in the abounding warmth and hospitality of our region while experiencing all that Virginia's Eastern Shore has to offer." Miriam Elton, owner, brown dog ice cream
With 24 trail sites already signed on during the preparation phase of the program, the Naming of the Trail kicks off the Official Registration Period for trail sites. Although registration in the program is year 'round, those who wish to be included in the trail's launch brochure/map, which is a comprehensive print feature, must register by January 15, 2015.
Virginia's Eastern Shore Artisan Trail is a regional trailway that connects destinations including artisan/artist studios, galleries, agri-artisan farms, markets, local restaurants, lodging, and area points of interest all across the two counties of Northampton and Accomack, on Virginia's Eastern Shore.
"The first Eastern Shore artists, centuries ago, created works of art for practical reasons: a carved duck decoy, a painted clay pot, the iron oyster rake. The Virginia's Eastern Shore Artisan Trail will connect that storied past to now. Eastern Shore artisans create exquisitely wrought everyday things along with a stunning range of creative product for visitors to experience, from heirloom sweet potato farmers and wine makers to chefs, painters, filmmakers, glassblowers, musicians, dancers, writers, actors. Once Virginia's Eastern Shore Artisan Trail gives you the map, you'll be able to find and experience these creative souls in person and it will change your life forever." Kerry Allison, Executive Director, Eastern Shore of Virginia Tourism Commission
The trail's "handcrafted and locally grown" focus offers an attractive and compelling pathway celebrating the artisan traditions and culture of the Eastern Shore region and is viewed as a major economic development and tourism initiative for the area. Along with networking and connecting local businesses in a community collaborative, promoting the visibility and sales of local artisan-related products, the Trail will provide an important boost to the area's general tourism industry by extending visitor stays in the community and increasing the attractiveness as a tourist destination.
"Our market vendors are all local farmers, watermen and artisans who bring their bounty to the market each week, therefore we believe that The Onancock Market qualifies as the very definition of who should be an Artisan Trail participant. We look forward with excitement to the launch of Virginia' Eastern Shore Artisan Trail and believe it is a most appropriate and valuable media vehicle in which to promote the Onancock Market!" Janet Fosque, Onancock Market Manager
SOURCE: Artisans Center of Virginia