August 20, 2015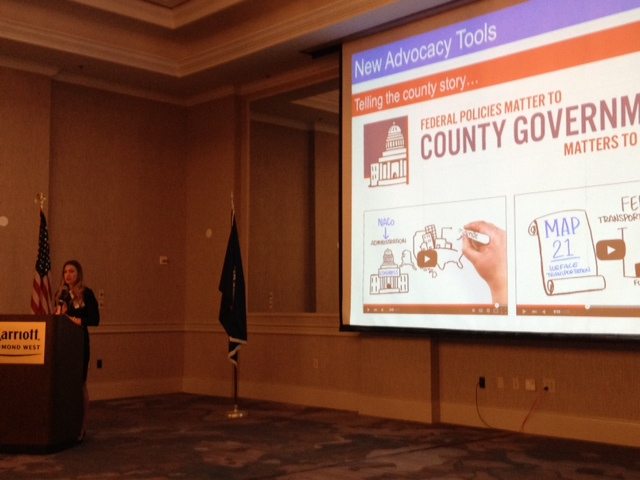 Over 100 county representatives convened in Richmond for the 2015 County Officials Summit on August 13. This was the third year the event was held in conjunction with summer steering committee meetings, but the first year the Summit was offered free thanks to our sponsors – Jacobs Engineering Group and Schneider Electric.
After VACo President Penny Gross kicked off the Summit, Jim Regimbal gave a presentation on 2016-18 budget issues. That was followed by NACo's Director of Legislative Affairs Deborah Cox, who spoke about federal issues affecting counties. Attendees heard information from Secretary of Commerce and Trade Maurice Jones and Virginia Economic Development Partnership President/CEO Martin Briley on workforce development and economic development. Transportation and land use issues were covered by Deputy Secretary of Transportation Nick Donohue. The day concluded with a presentation by GO Virginia on workforce development and economic development advocacy efforts of interest to VACo members. This presentation concluded the VACo Leadership Series program. Thank you to all of our speakers for taking the time to come meet with Virginia's county officials.
On August 14, VACo's seven steering committees met. The chief objective was to discuss and agree on preliminary legislative position statements that will be incorporated in VACo's Draft 2016 Legislative Program. The legislative program will be distributed to all counties later in the fall, and revisited for final consideration by all steering committees during VACo's Annual Conference at The Omni Homestead in Bath County, November 8-10.
Thank you for volunteering to be on a steering committee and being part of the process.
For Summit speaker presentations, visit VACo's County Officials Summit Webpage.
VACo Contact: Amy Elizabeth Vealey