September 2, 2015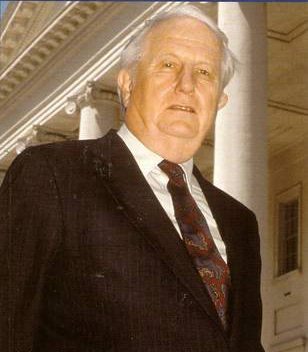 Flip Hicks, former VACo General Counsel and Senior Lobbyist, passed away on August 13 in Gloucester County. Hicks was 86.
Hicks joined VACo in 1962 as General Counsel. As a lobbyist, he worked on landmark legislative decisions such as integration, annexation, school funding and public kindergarten. In 1966, Hicks was instrumental in the implementation of the first statewide sales tax, which generated revenue for public schools. The sales tax was one of the first collaborative efforts of VACo and the Virginia Municipal League.
Hick's work with local government earned him several distinguished honors. He received the Edward J. Finnegan Award for Distinguished Service from the Local Government Attorneys of Virginia and the Jefferson Cup Award from VACo in 2002. The Jefferson Cup is VACo's highest honor that recognizes outstanding contributions to local government.
"VACo will forever be grateful for the steadfast dedication and commitment that Flip gave to the counties of Virginia," said Jim Campbell, VACo Executive Director. "Flip's knowledge of the workings of government at all levels was a huge asset as he lobbied on behalf of Virginia's counties."
Hicks was born on February 24, 1929 and grew up in Port Royal. He walked on dirt roads to his one-room elementary school and later graduated from Caroline County High School in 1946. He earned an undergraduate degree (1949) and a law degree (1952) from the University of Virginia.
While still in law school in 1951, Flip met Patricia (Patsy) DeHardit, his future wife, on a double blind date. She was studying at James Madison University, and it was love at first sight. The couple married on December 27, 1952 and settled in Richmond where Hicks began public service as an Assistant Attorney General with the Commonwealth. In 1958, the Hicks family moved to Gloucester where he joined the DeHardit law firm.
Hicks would serve as a lawyer for more than 50 years and his career had great impact on his home state.
His wife Patsy was the love of his life. They traveled the world together and took great pride in their children and grandchildren. Hicks always instilled the importance of education, love of life and service to others. Hicks was a diehard Wahoo fan and hosted great tailgate parties. He loved attending UVA football and basketball games. But perhaps his favorite past time was resting on the porch of his home "Pinewold" where he lived for 57 years.