May 4, 2015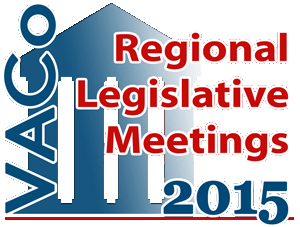 Join us – Region 10 & 11 – Franklin County
VACo Members
We are excited to bring the next 2015 VACo Regional Legislative Meeting to VACo Region 10&11. Regional representatives are invited to attend and should have received an informational email. This is an opportunity for county elected officials to share local and regional problems and solutions. We expect a robust discussion and your attendance adds to the value of the meeting.
We also invited state legislators in the VACo Region 10&11 area. The event format allows for lawmakers to hear your concerns and answer some of your questions.
The meeting begins with a presentation on economic development issues. It also includes a discussion on broadband and county tax rates and transportation. We encourage you to attend and represent your county.
Light snacks will be provided.
Please RSVP at vrussell@vaco.org.
Click here to view informational flier.
VACo Contacts: Larry Land, CAE and Erik Johnston, CAE