June 17, 2013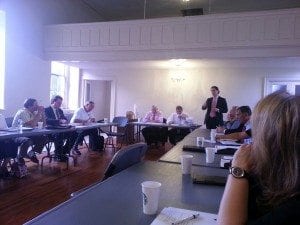 By Larry Land
Transportation, education, and several water issues dominated discussions at the meeting of VACo Region 2 that was held in Tappahannock on June 14.  Region 2 consists mostly of counties in the Middle Peninsula and Northern Neck regions of Virginia. VACo President Jack Miller presided over the meeting.
In addition to legislative issues, VACo's Executive Director Jim Campbell provided the 21 meeting attendees with information about the long-term disability plan offered through VACo's Risk Management Pool (VACoRP). By Sept. 1, local governments must notify the Virginia Retirement System whether they wish to continue participation in the VRS plan or pursue other options for providing long-term benefits for local government employees.
Meeting attendees raised many concerns over the legislation (SB 1324, McDougal) passed by the 2013 General Assembly creating the "Opportunity Educational Institution" (OEI) that would allow the state to seize control of local government revenues and assume responsibility for managing public schools that fail, over a period of three years, to achieve accreditation.
Meeting attendees also expressed major concerns about water issues, specifically stormwater. By July 1, 2014 local governments are required to put into effect new stormwater management programs that must be approved by the State Water Control Board. Several attendees expressed opposition to current provisions in Virginia's Stormwater Management Law requiring up to 30 percent of locally generated stormwater fee revenues to be remitted to the state.
VACo discussed with Region 2 members ongoing concerns about the potential elimination of Business/Professional/Occupancy Licenses (BPOL) and merchants capital taxes. It was highlighted that during the 2013 general assembly session legislation was introduced (but ultimately defeated) to eliminate these local sources of revenue.  VACo indicated that this issue would resurface again in the 2014 general assembly session.
Many issues discussed at this meeting, and all other regional meetings currently being conducted by VACo, will be revisited on August 16 when all eight steering committees will meet to start development of  the Association's 2014 Legislative Program.