October 2, 2015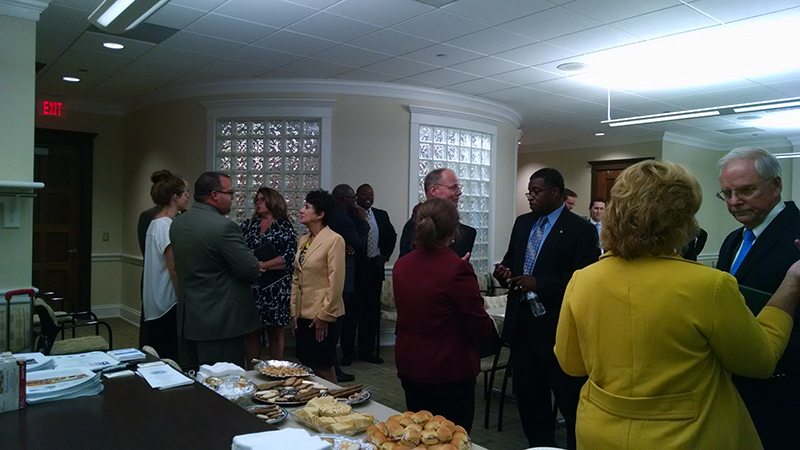 Nearly 40 local government officials convened on September 23 in Isle of Wight County for the VACo Region 1 Legislative Meeting. The purpose of the meeting was to allow counties to interact and share concerns and updates on legislative issues. Isle of Wight Board Chairman Rex Alphin expressed a warm welcome to attendees on behalf of the county and commended the region's elected leaders for their interest in coming together to share mutual concerns and interests.
Prince George County Board Chairman and Region 1 Director Bill Robertson moderated the event and expressed concern with the Thomas Jefferson Institute's Tax Study calling for the elimination of local business/professional/occupational licensing (BPOL) and machinery and tools (M&T) taxes. VACo's Deputy Executive Director Dean Lynch provided an update on VACo's strategic plan and draft legislative program.
Other board members from Prince George county highlighted the impacts of federal sequestration on local governments and increasing costs for regional jails. They further commented on human service challenges including the increasing costs of the Children's Services Act (CSA) and the need for local regulation of group homes.
Southampton county talked about the challenges of being able to collect services charges on state government owned properties in its jurisdiction.
Representatives of Virginia Senators Mark Warner and Tim Kaine attended the meeting and provided an update on federal legislative challenges such as transportation funding, sequestration and the national debt limit. They expressed support for the Market Place Fairness Act (MPFA), which allows sales tax collection from online sales.
Sussex, Isle of Wight and Surry counties expressed concerns about the new competitive transportation funding process established under House Bill 2.  Surry noted the need for the creation of a major highway for the region.
Attendees received an update on the GoVirginia initiative and discussed the challenges and opportunities of regional collaboration.
VACo Contact: Beau Blevins