November 20, 2013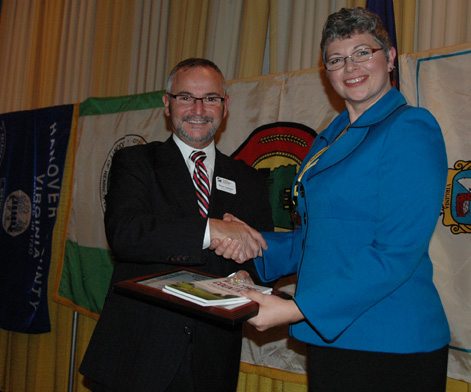 The Virginia Cooperative Extension and the Virginia Association of Counties (VACo) recognized the eighth class of the County Supervisor Certification Program on Nov. 10 during the VACo Annual Conference in Bath County.
The County Supervisor Certification Program is a partnership between Virginia Cooperative Extension, Virginia Tech and VACo that provides training to enhance the leadership and decision-making skills of county supervisors in the Commonwealth.
This year's 12 graduates of the 18-month certification program are:
• John Cataldo, Brunswick County
• Claire Anne Collins, Bath County
• William F. "Bill" Gandel, Prince George County
• Don C. Gantt, Jr., Prince Edward County
• John Haynes, Richmond County
• Dana G. Kilgore, Wise County
• Phil D. McCraw, Carroll County
• Phillip "Bart" Perdue, Bath County
• Cassandra L. Stish, Buckingham County
• Robert "Bob" Thomas, Jr., Stafford County
• Kevin Wagner, Highland County
• John R. Woodward, Page County
The County Supervisor Certification Program was created in response to VACo members requesting more in-depth knowledge about government operations.
"I congratulate our 12 graduates on completing this challenging and fulfilling certification program," said James D. Campbell, executive director of VACo. "The 12 graduates are the most we've honored since our first class in 2006 recognized 10 graduates. This is proof that the program continues to grow, which bodes well for the future of county government. We believe the Supervisor Certification program is a way to acknowledge our members who seek additional training and improvement of their abilities to better serve their constituents."
Virginia Cooperative Extension partners with VACo to develop and deliver the program. "This program is a great example of Virginia Cooperative Extension growing its partnership with an organization to strengthen the impact of our community viability efforts and to collaborate with other agencies to provide leadership education," said Michael Chandler, Professor Emeritus at Virginia Tech and the program's instructor.
The County Supervisor Certification Program provides an overview of the basic issues, expectations, and practices associated with serving as a county supervisor as well as detailed information about local government. Each participant completes five core courses featuring both classroom instruction and self-directed learning on leadership development, duties and responsibilities of public officials, community planning, local government finance, and collaborative governance. Participants also select three elective courses on topics such as conflict resolution and dispute management, team building, technology in local government, decision-making, and intergovernmental relations.
For more information about the County Supervisor Certification Program, contact James Campbell, executive director, at jcampbell@vaco.org or 804.343.2500.
Supervisor Certification Past Graduates
2012
Joseph C. Straten, Washington County
2011
Larry K. Bartlett, Grayson County; David W. Blanchard, Highland County; Brenda Sutherland, Grayson County
2010
Stephen W. Bowen, Nottoway County; J.D. Cave, Page County; Donald W. Kidd, Amherst County; Dr. Thomas Littrell, Carroll County; Ernie McLeod, Louisa County
2009
Deborah B. Coats, Hanover County; Robert H. Conner, Brunswick County; Willie L. Gentry, Jr., Louisa County; Bernard L. Jones, Sr., Brunswick County; Ann H. Mallek, Albemarle County; Carl Schmitt, Greene County
2008
Sharon Baroncelli, Shenandoah County; Kate Berger, Pittsylvania County; Tony Carter, Warren County; David Hutchins, Carroll County; Paul Milde, Stafford County
2007
John Rust, Page County; William Quarles, Jr., Goochland County; Charles Allbaugh, Fluvanna County
2006
Wayne A. Acors, Caroline County; Charles C. Ballard, Page County; Phillip A. Bradshaw, Isle of Wight County; Gerald M. Cubbage, Page County; Carol Lee Fischer-Strickler, Page County; Thomas W. Fore, Amherst County; R. Kenneth Hatcher, Powhatan County; Judy S. Lyttle, Surry County; Ronnie L. Shortt, Wise County; Thomas J. Wright, III, Isle of Wight County