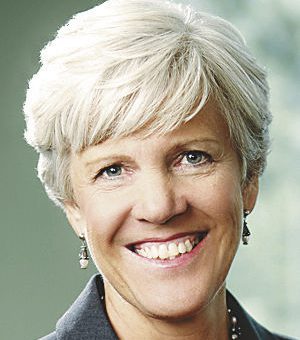 RICHMOND (November 16, 2021)— The membership of the Virginia Association of Counties elected Stafford County Supervisor Meg Bohmke as 2021-2022 President during VACo's 87th Annual Conference, which was held in Norfolk. Bohmke and other newly elected officers started their terms at VACo's Annual Business Meeting on November 16.
Bohmke succeeds Fairfax County Chairman Jeffrey C. McKay, and becomes the second President from Stafford County since 1935. Stafford County Supervisor Ferris M. Belman, Sr., led the association in 1999-2000.
"I'm honored to be elected by my colleagues to serve as President of VACo," Bohmke said. "I cannot wait to get started in advocating for our localities, and I look forward to continuing to work with leaders across the Commonwealth to improve our communities."
Bohmke was first elected to the Stafford County Board of Supervisors in November 2013 to represent the Falmouth District. She was elected Chairman by her fellow Board members for 2018 and again for 2020.
Bohmke previously served on the Stafford County School Board for four years starting in November of 2009. She and her family have lived in the Falmouth District for 16 years. Bohmke worked in public finance for 13 years, most recently for Prudential Bache Securities and Sutro & Company, where she structured short- and long-term municipal bond issues that were sold in the capital markets.
"Meg is a thoughtful leader who brings civility and respect to county governments," VACo Executive Director Dean Lynch said. "Meg's background in education, finance and other legislative issues will serve our association well. We are excited to have her as our next President."
Bohmke received her Bachelor of Science degree from Florida State University in 1981.
She is a past elder in the Fredericksburg Presbyterian Church where she currently teaches Sunday School. Bohmke and her husband Dave have three children, Matt, Greg, and Natalie.
"I'm excited for this opportunity to serve localities and to work with my VACo colleagues," Bohmke said. "There is so much we have accomplished and can accomplish together. I know VACo well, and can confidently express that we are well-represented at the local level with outstanding leaders."
VACo 2021-22 Executive Committee
President: Meg Bohmke | Stafford County
President-Elect: Jason D. Bellows | Lancaster County
First Vice President: Ann H. Mallek | Albemarle County
Second Vice President: Ruth Larson | James City County
Secretary-Treasurer: Donald L. Hart, Jr. | Accomack County
Immediate Past-President: Jeffrey C. McKay | Fairfax County
In addition to the VACo Executive Committee and Past Presidents, the Board of Directors consists of 24 supervisors representing 13 regions of the state, and a NACo Delegate. The terms are on a two-year cycle and the number of directors, per region, is based on the population.
This year, representatives were selected in regions 2, 3, 4, 7, 8, 9, 10, 13 (Click here for a regional map)
VACo 2021-22 new board members
Region 2: Sidney N. Johnson | Essex County
Region 3: James M. Holland | Chesterfield County
Region 3: Patricia S. O'Bannon | Henrico County
Region 3: W. Canova Peterson | Hanover County
Region 4: Daniel D. Lee | Dinwiddie County
Region 7: Jeffrey S. Black | Caroline County
Region 8: Victor S. Angry | Prince William County
Region 8: Kathy L. Smith | Fairfax County
Region 8: James R. Walkinshaw | Fairfax County
Region 9: James M. Griffith | Alleghany County
Region 10: Jerry W. Boothe | Floyd County
Region 10: April DeMotts | Montgomery County
Region 13: John T. Schoolcraft | Wise County