March 17, 2014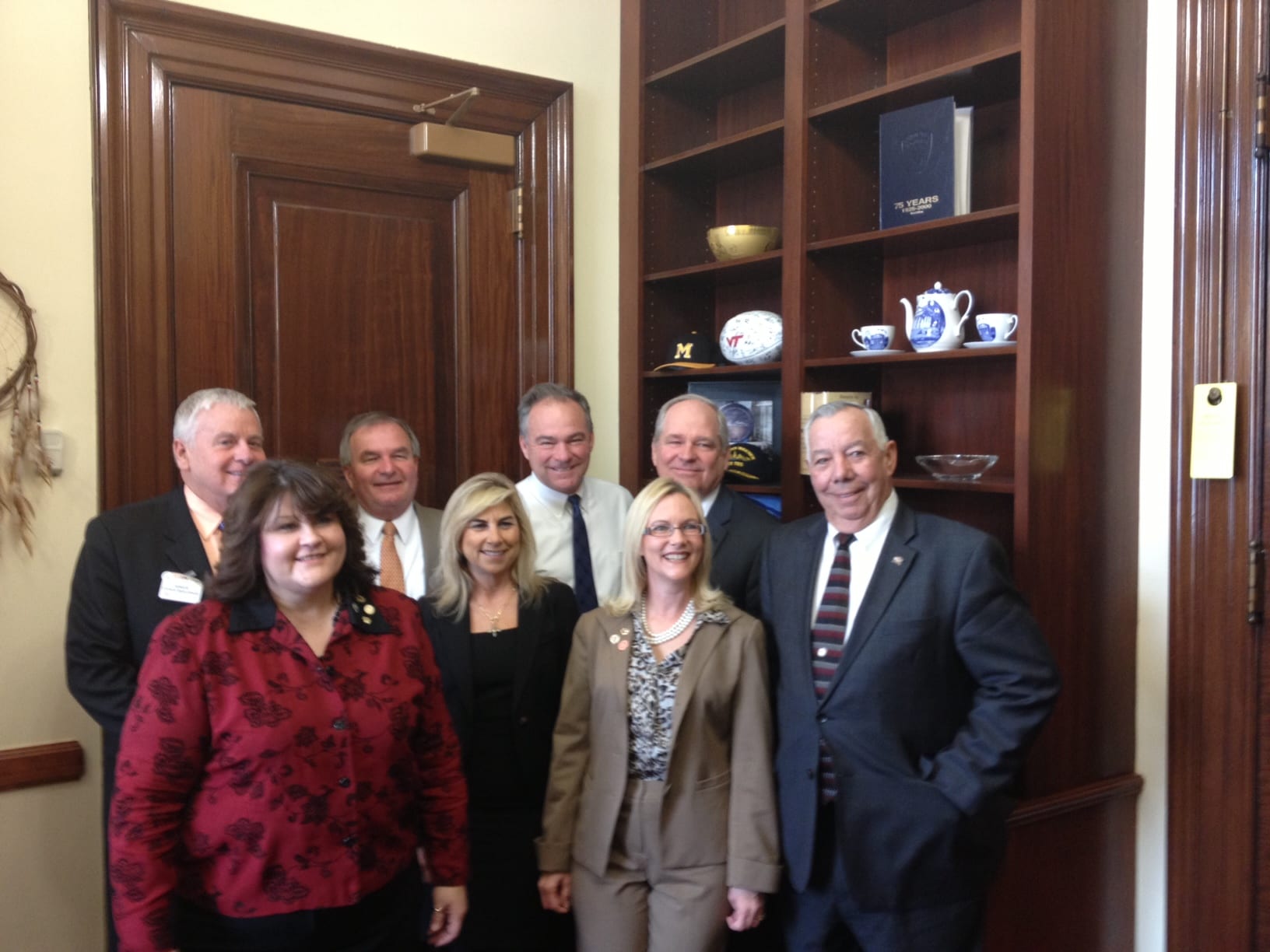 VACo visits Washington DC — (Back row from left to right) Jim Campbell, VACo Executive Director; Billy Kyger, Rockingham County Supervisor; U.S. Senator Tim Kaine; Harrison Moody, VACo President and Dinwiddie County Supervisor. (Front row from left to right) Rosemary Mahan, Westmoreland County Supervisor; Claire Collins, Bath County Supervisor, Ruby Brabo, King George County Supervisor; and Pablo Cuevas, Rockingham County Supervisor.
VACo members joined more than 1,500 county officials from across the country to take county priority issues to our nation's leaders in Washington, DC during the National Association of Counties' (NACo) 2014 Legislative Conference, March 1-5.
A delegation of county supervisors from Virginia, led by VACo President Harrison Moody, Dinwiddie County, met with U.S. Senator Tim Kaine and thanked him for his support in passing the Farm Bill with funding for Rural Development and Payment in Lieu of Taxes and for supporting the Marketplace Fairness Act, which ensures collection of remote online sales taxes and is a potential source of funding for Virginia's transportation infrastructure.
The delegation also asked the Senator to work to protect the tax exempt statuBus of municipal bonds, support federal economic development programs, work with localities on efforts to maintain our state's military bases and work to repeal and oppose unfunded federal mandates.
Members of the delegation also met with Virginia Senator Mark Warner and his staff and discussed the same issues. Many of the supervisors also met individually with their representative in the U.S. House of Representatives. Several of the Virginia meetings in the House included an appeal to support local resources by allowing the collection of existing sales taxes on out-of-state catalog and online sales.
The House does not appear likely to pass the Marketplace Fairness Act in the same form that the Senate passed it, but VACo members were pleased that members of the House Judiciary Committee are working to find a solution to this issue that can pass through the House. VACo supervisors met with House Judiciary Committee members including staff to U.S. Representative Randy Forbes and U.S. Representative Bob Goodlatte, who serves as chairman, to urge the House to pass a bill and work out differences with the Senate in conference. The chairman promised to work with counties on the issue and held the committee's first hearing on the topic on March 12. For background on this issue, view the NACo Fact Sheet.
In addition to carrying the county government message to Capitol Hill, Virginia's delegation participated in a variety of educational workshops and helped to set NACo's legislative policies. NACo policy committee guest speakers from the White House, Capitol Hill and federal agencies briefed county leaders on March 1 and 2 on issues such as cyber security, internet sales tax, broadband, agriculture and rural development, health and human services, community and economic development, justice and public safety and immigration reform.