April 16, 2014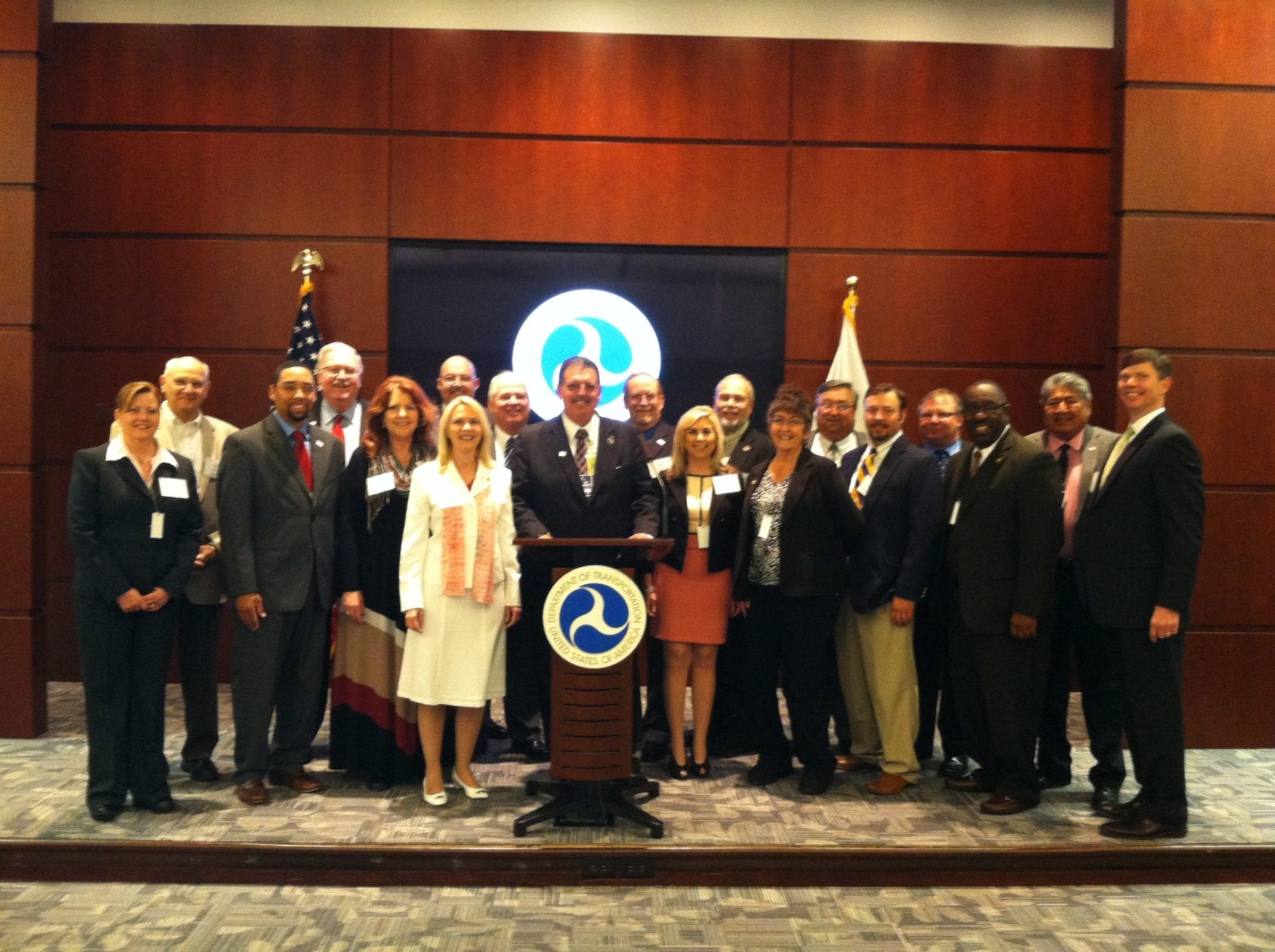 Members of the NACo Rural Action Caucus prepare for a meeting with the U.S. Department of Transportation. VACo members are well represented–Ruby Brabo, Supervisor, King George County (front row, fourth from left); Claire Collins, Supervisor, Bath County (front row, sixth from left) and VACo President Harrison Moody, Supervisor, Dinwiddie County (back row, fourth from left).
Three rural county supervisors from Virginia joined rural county leaders from across the country to participate in the National Association of Counties' (NACo) 2014 Rural Action Caucus (RAC) Fly-In on April 8 – 10.  VACo President Harrison Moody, Supervisor Dinwiddie County, Supervisor Claire Collins, Bath County and Supervisor Ruby Brabo, King George County met with members of Congress and federal agencies to discuss key rural county issues such as surface transportation reauthorization, rural development, Payment in Lieu of Taxes (PILT) program and Marketplace Fairness Act (online sales tax collection).
On Capitol Hill, the VACo delegation met with staff for Senators Mark Warner and Tim Kaine. They also individually met with their Congressmen; Rep. Bob Goodlatte, Rep. Randy Forbes and Rep. Rob Wittman. The delegation told specific county stories relating to the priority issues, specifically referencing community situations and real time concerns of their constituents.
"These meetings with members of Congress and their staff were very productive," Supervisor Moody said. "They provided a perfect opportunity to explain the specific challenges and opportunities facing rural counties in Virginia such as broadband deployment and why legislative action is necessary for counties and their residents."
The RAC meeting also included updates on tax reform and municipal bonds from staff with the House Way and Means Committee.  An update on the PILT Program was provided by a staff member from Rep. Mike Simpson's (Idaho) office.
"It was important for us to remind Congressional staff and Administration officials that many counties in eastern states such as Virginia have large tracts of federal lands," Supervisor Collins said. "we emphasized that federal land management policies have major implications for service delivery in our communities and continuation of the Payment in Lieu of Taxes program is a critical federal commitment to counties with federal lands".
The delegation met with Administration officials at the U.S. Department of Transportation (USDOT) focused on surface transportation reauthorization and programs surrounding rural transportation. At the U.S. Department of Agriculture, the group discussed regional and rural innovation, community and economic development and the Made in Rural America Exporting Initiative with staff that focus on rural development issues.
Throughout the fly-in VACo members strived to communicate the specific issues facing Virginia's rural counties.
"We expressed our commitment to working with our congressional leaders to maintain the strong network of key federal facilities in Virginia, both civilian and military," said Supervisor Brabo, "these bases and facilities are not only key to our national security, but are the backbone of many of our rural counties, including mine."