November 18, 2014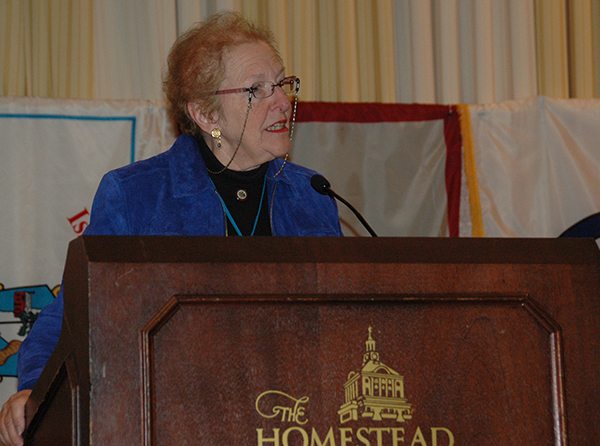 The membership of the Virginia Association of Counties elected Fairfax County Supervisor Penelope A. "Penny" Gross  as 2014-2015 President during VACo's 80th Annual Conference in Bath County. Gross and other newly elected officers started their terms at the association's Annual Business Meeting on November 11.
Gross succeeds Dinwiddie County Supervisor Harrison A. Moody.
Gross becomes the ninth president from Fairfax County and the second in four years. Fairfax County Supervisor Catherine M. Hudgins was VACo President in 2011-2012.
"I'm excited for the challenge of being VACo President, and I'm humbled by this opportunity," Gross said. "VACo is coming off a successful year of implementing the strategic plan, and I want to continue the progress. I'm also thrilled to lead an organization that promotes the well-being of all counties, and I hope to make a difference in my year as President."
Gross was first elected to the Fairfax County Board of Supervisors in 1995 and was re-elected to her fifth term on November 8, 2011. She currently serves as Vice Chairman of the Board.
"Penny has been a leader locally and in VACo for a long time," VACo Executive Director James D. Campbell said. "Penny is a tireless worker and has a knack for solving problems with fresh and innovative ideas as well as taking practical approaches to issues. VACo is going to grow stronger under Penny Gross. We are fortunate to have her as our President."
On the state and national level, Gross currently is vice-chair of the National Association of Counties' Energy, Environment and Land Use Committee. She completed a one-year term as President of the National Association of Regional Councils Board of Directors in June 2014. Gross was appointed by Governor Mark Warner to the Local Government Advisory Committee (LGAC), which provides policy advice to Chesapeake Bay Executive Council. Gross chaired LGAC from March 2006 until August 2008. She continues to serve after being appointed by Governor Terry McAuliffe.
Prior to her tenure as Supervisor, Gross worked for 20 years as staff in various congressional offices. She served on the Board of the Lincolnia Park Civic Association (1985 to 1997), and on the Executive Board of the Mason District Council of Civic Associations (1988 to 1995).  She has held numerous offices with PTA, and is an Honorary Life Member of the Virginia State PTA.
Gross was elected to the VACo Board of Directors in 1996 as the Region 8 representative.
"People often ask me where I get my energy," Gross said. "I simply love my job. I love to work, and I get energy from the people I serve. Being out in the community and getting to know the people of Virginia as friends and having them consider me as a friend keeps me going."
Gross was born in Eugene, Oregon, and earned her degree from the University of Oregon. She and her husband Hal have been married for 44 years and have three children.