July 2, 2014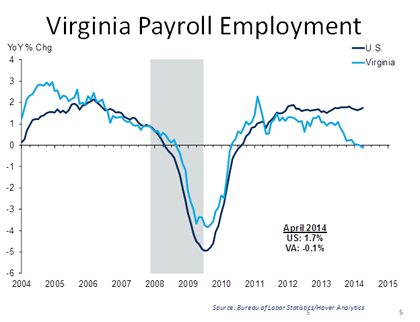 By Dean Lynch
The long drawn out budget impasse of the 2014 session of the Virginia General Assembly ended with passage of a state budget by the General Assembly on June 12, 2014 and signature by the Governor on June 21 with several line item vetoes upheld on June 23. The adopted budget does not include an expansion of Medicaid, and it includes an amendment designed to prevent the expansion of Medicaid without approval of the General Assembly. The Governor remains committed to moving forward with expansion of Medicaid and will unveil a plan to do so administratively by September 1.
Debate over the budget changed quickly in early May with news of the now expected FY 2014 – 2016 revenue reduction of $1.55 billion due to unexpected tax policy-related timing shifts and income tax withholding revenue trends that are indicating that FY 2015 and FY 2016 growth of about 4.3 percent per year will not be met. Payroll withholding growth is currently running about 2.5 percent and trending down. There is essentially zero year-over-year job growth in Virginia (see chart) and actually negative growth in high paying business and professional jobs.
While the FY 2014 – 2016 enrolled budget does not technically reduce the revenue forecast, it does anticipate the fall revenue forecast reduction by creating a revenue reserve of $842 million from a series of spending reductions. The remaining $707 million in reduced revenues are expected to be covered by the state's Rainy Day Fund.
Most new spending above the FY 2014 base originally proposed in the introduced budget has been removed except for the following few high-priority categories:
• funding for K-12 SOQ rebenchmarking
• funding for Medicaid utilization
• additional mental health services spending
• commitment to repayment of VRS short funding from FY 2010-12 budget
• commitment to fully-fund the phase-in to VRS board approved rates
• debt service payments
• required Rainy Day Fund deposit in FY 2015 (based on FY2013 revenue performance)
• minimized direct impact of cuts on local governments
To read VACo's detailed analysis of the state budget, click here.