September 3, 2013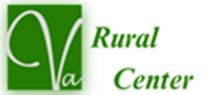 Rural Center's Founding Director Glen Sink to Retire
Christy Tomlinson Morton has been appointed executive director of the Center for Rural Virginia, effective Sept. 1. A native of Gloucester County, Morton most recently served as Deputy Director for External Affairs and Policy Development, Virginia Gov. Bob McDonnell. Prior to her tenure with the Commonwealth she worked in communications and public relations for Virginia Natural Gas in Norfolk, as well as in government and public relations for Davis Consultants in Richmond.
Morton received a bachelor of arts degree in political science and a minor in economics from Christopher Newport University. She is currently finishing a masters of arts degree in political science from Virginia Tech. In addition, Morton is a graduate of the Sorensen Institute for Political Leadership (University of Virginia) and has received graduate certificates in the Foundations of Political Analysis and Environmental Politics and Policy.
"I am convinced that Christy will be an asset for the Rural Center. She has a working relationship with many in Richmond both in the General Assembly and with the department heads in state government," said Senator Frank Ruff, Virginia Rural Caucus chair (15th Senate District).
Sen. Emmett W. Hanger, Jr. (R- Augusta County), an active member of the Rural Caucus and Chairman of the Board of Trustees for the Center for Rural Virginia, remarked, "We are delighted to have Christy come on board and continue the efforts of promoting an agenda favorable to rural interests, especially at a time when the population growth in the urban areas are diminishing the influence of rural lawmakers. Christy's policy experience and background will allow her to play a vital role in formulating an agenda favorable to a strong rural economy while we also strive to maintain the rural quality of life that for many, defines what it means to be a 'Virginian.' A progressive rural focus will be a win for the entire Commonwealth and the Center for Rural Virginia will continue to be a key player under the leadership of Christy Morton."
Current executive director, Glen Sink will retire after Sept. 30 and will support Morton and the Center through this leadership transition.
The Center is a partnership of the Center for Rural Virginia, a Virginia legislative entity advocating for rural policy, and the Council for Rural Virginia, an entity organized by federal statute that is a conduit for building rural capacity by facilitating the collaboration and creation of coalitions of the key economic regions and sectors of the Commonwealth.