September 2, 2015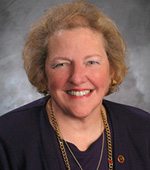 By Penny Gross | VACo President
A version of this column appeared in the Falls Church News Press
The Commonwealth's $553 million budget surplus announced by Governor Terry McAuliffe in July was good news for localities – to a point. Most of the budget surplus is constitutionally required to be deposited to the Rainy Day Fund and the Water Quality Improvement Fund. But localities will also receive the state part of the surplus for teacher salary increases. My county (Fairfax) will collect about $4.7 million. Another good news item is that local governments will no longer be required to provide "local aid to the state" to bolster the state general fund.
The not-so-good news is that FY 2016 state funding for K-12 public education lags below the high point of FY 2009. That picture becomes more dismal when student growth numbers and inflation are factored in.
At the recent County Officials Summit, one state expert noted that Virginia's teacher salaries are about $7,000 less than the national average. Funding those salaries, as well as the prevailing support costs, would require an extra $750 million in state funding per year, or an extra $625 per student.
Every county in the Commonwealth exceeded the "required local effort" (RLE) in FY 2013, according to reports. In FY 2014, the average support in excess of RLE was 84.06 percent. RLE requires that sufficient local funds have been budgeted to meet all state required local effort and required local match amounts for the Standards of Quality (SOQ). Forty-five school divisions exceed 100 percent RLE with Fairfax County funding schools at 127.86 percent of the required RLE. Clearly, the Commonwealth and the General Assembly need to ensure that our youngest Virginians benefit from investments in public education. Localities already have stepped up to the plate; their budgets prove it.
Additionally, the Virginia Board of Education has made a number of changes to the Standards of Quality (SOQ), but those recommendations lack state funding. Among their recommendations is one reading (K-12) and one math teacher (K-8) for every 1,000 students, a full-time assistant principal for every 400 students in the school and a full-time principal for each elementary school. These are unfunded changes to the SOQ. Spending cuts still are being felt. Since FY 2009, 71 percent of the school divisions have increased class sizes. Nearly all school divisions who reduced staff because of spending cuts have added duties to the remaining staff. Some of those institutions also reduced compensation and employee benefits in the same time period.
A strong public education system is a must for our community, and budget figures at the county level reflect substantial, and consistent, support for our public schools. It's time for the Commonwealth and the General Assembly to do the same.