June 17, 2014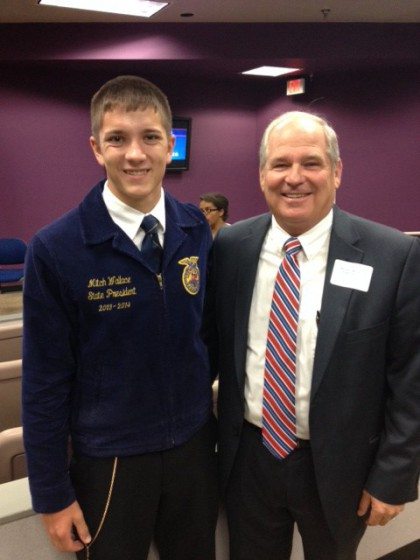 VACo President and Dinwiddie County Supervisor Harrison Moody (right) shares a moment with Mitch Wallace, State President of Future Farmers of America.
County officials participated in the U.S. Department of Agriculture's (USDA) Regional Forum on Rural Working Families on June 11 in Chesterfield County.
This forum was part of the information-gathering process for the White House Summit on Working Families, which will be held in Washington, D.C. on June 23. The event brought together business owners, farmers, all levels of government officials and other interested parties to discuss how to improve the situation of working families in Virginia's rural localities.
Two of the panelists who spoke at the forum are county supervisors. The first panel included Supervisor Dee Dee Darden of Isle of Wight County, who is a farmer and owner of Darden's Country Store. Supervisor Darden emphasized that building and maintaining a strong agricultural sector will help strengthen rural communities as a whole. She said that helpful programs to bolster farming include farm preservation programs and the state and local partnership through Agriculture and Forestry Development Grants (AFID), which help add value to agricultural operations.
The second panel of the day featured Supervisor Harrison Moody, who is the VACo President and has served as a supervisor in Dinwiddie County for 27 years. He and other panelists focused on the lack of broadband access in many rural areas as one of the most pressing issues facing rural residents and businesses.
He also shared his experience on how Dinwiddie County has developed and diversified its economy, both by attracting businesses like Amazon and bringing in tourism by highlighting the county's rich Civil War history and its strong sports facilities and programs.
The panelists also focused on improving long-term healthcare, retirement and estate planning resources and capitalizing on "Made in Rural America" movement as key ways that rural localities could improve the situation of their working families. All speakers agreed that it is essential for rural communities to work toward the creation of quality job opportunities close to home to give young people a reason to stay and build a future in rural America.