September 4, 2014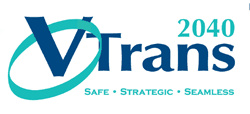 The Office of Intermodal Planning and Investment (OIPI) recently kicked off VTrans2040, Virginia's next statewide long-range multimodal transportation plan. At this early stage, OIPI will host a statewide forum on Monday, September 8 from 1:30 to 4 p.m.
The purpose of the forum is to gather your ideas on the plan's vision, goals and objectives and share information about the major trends that could affect transportation in the coming years.
Similar to recent forums, OIPI will hold the September 8 forum simultaneously in five locations throughout Virginia. Each will be connected by internet and phone. The forum locations are Bristol, Hampton Roads, Northern Virginia, Richmond and Roanoke. The address for each is listed below.
OIPI is developing VTrans2040 in two phases. The September 8 statewide forum supports the first phase, which will result in the VTrans2040 Vision in early 2015. The Vision will establish a policy framework with a vision, goals, objectives and guiding principles to form the foundation for a needs analysis and specific recommendations in the second phase – the VTrans2040 Multimodal Transportation Plan – to be completed in early 2016.
Statewide Forum Locations
• Bristol: VDOT Bristol District Office, 870 Bonham Road, Bristol, VA 24201
• Hampton Roads: Hampton Roads TPO, 723 Woodlake Drive, Chesapeake, VA 23320
• Northern Virginia: VDOT Northern Virginia District Office, 4975 Alliance Drive, Fairfax, VA 22030
• Richmond: Richmond Regional PDC, 9211 Forest Hill Avenue, Suite 200, Richmond, VA 23235
• Roanoke: Roanoke Valley-Alleghany Regional Commission, 313 Luck Avenue SW, Roanoke, VA 24016
Please RSVP for the Forum and indicate which location you will attend by sending an e-mail to Mike Callahan at mcallahan@citiesthatwork.com. Please also indicate whether other representatives from your organization will attend so that we can ensure we have adequate meeting space.
Should you have any questions or concerns, please feel free to contact Ms. Kelli Nash at the Office of Intermodal Planning and Investment, at 804.786.0481 or Jacklyn.Nash@governor.virginia.gov.
VACo Contact: Erik Johnston or Beau Blevins