August 20, 2014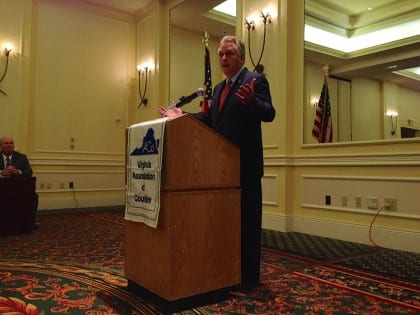 By Dean Lynch and Erik Johnston
On August 15, Governor Terry McAuliffe announced that the interim forecast for the state budget estimates the state revenue shortfall to increase to $2.4 billion, which is $882 million more than expected in the enacted Biennium Budget. The Governor outlined the major budgetary challenges facing the Commonwealth and his vision for overcoming these challenges in a speech to the joint Money Committees of the General Assembly and later in an address and conversation with county, city and town officials at VACo's County Officials Summit in Henrico County.
According to the Governor, the additional projected shortfall is largely attributable to sequestration, which reduced military contracts in Virginia by about 20 percent or $9 billion between 2011 and 2013 and is slated to continue. While the national economy continues to recover with employment growth at 1.7 percent the last fiscal year, Virginia employment finished last fiscal year at 0.4 percent. All major sources of revenue except for the insurance premiums tax and individual income tax refunds contributed to the deficit, however, collections of individual non-withholding accounted for most of the shortfall.
The General Assembly created a revenue reserve of $846 million in the current Appropriations Act and an additional $705 million can be withdrawn from the Revenue Stabilization Fund (Rainy Day Fund) during the Biennium, for a total of $1.55 billion. The additional shortfall of $882 million in this new re-forecast includes $346 million that must be found in fiscal year 2015 and $536 million that will be needed in fiscal year 2016.
The Governor stated that the immediate problem is the projected $346 million shortfall in fiscal year 2015, which is already underway. The General Provisions of the Appropriations Act call for the Governor to construct a detailed plan for dealing with the shortfall and allow him to withhold general fund allotments up to an aggregate of 15 percent (with some limitations).  Within this limit, the Governor can call for across-the-board budget cuts, targeted budget reductions, or a combination of both.
The Governor pledged that he and his finance team would work in collaboration with the General Assembly's money committees to determine the best course of action, but did not outline any specific areas that will be targeted for reductions. In his discussion with local officials, the Governor pledged to work in collaboration with localities to meet the budget challenge.
The Governor said the plan to address the budget shortfall in 2015 would be put together immediately and that the General Assembly can enact changes to fiscal year 2016 when it returns to its 2015 legislative session since that fiscal year will not begin until July 1. The Governor will release his recommendations for 2016 at the Money Committees joint meeting on December 17.