May 19, 2015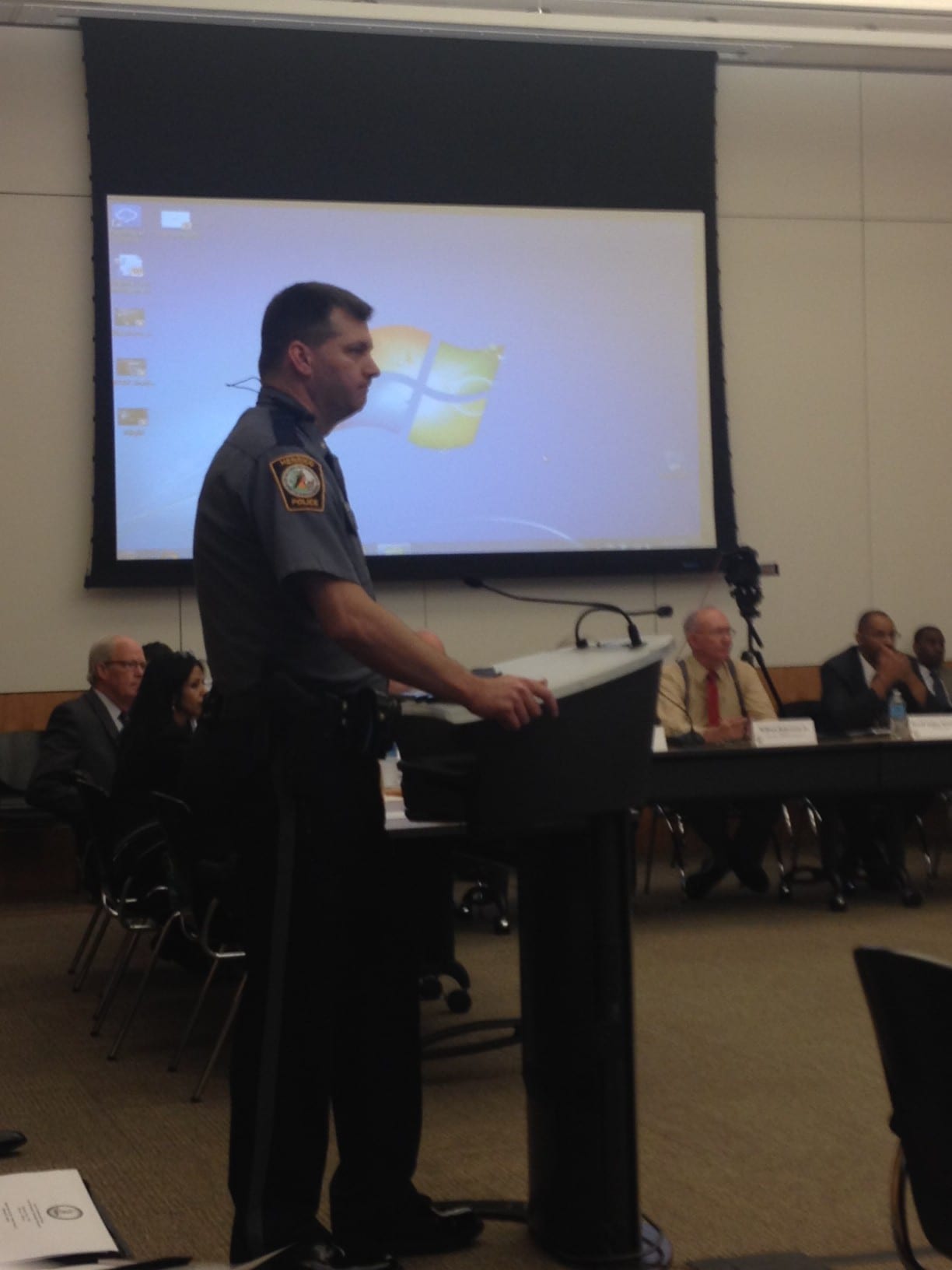 Henrico County Lieutenant Dennis O'Keefe gives a demonstration of body worn cameras.
The use of body worn cameras by law enforcement is an issue being discussed across the nation and a panel discussion on May 7 revealed more details about the status of the issue in Virginia. Governor McAuliffe appointed the Law Enforcement Technology Sub-panel of the Secure Commonwealth Panel to focus on body warn camera technology and any consensus among stakeholders on state policies that may be needed.
The Virginia Association of Chiefs of Police and Virginia Sheriffs' Association released a survey of their members regarding body worn cameras and 78 percent of 375 state and local law enforcement agencies responded. 41 percent of agencies responding currently use body worn cameras in some capacity, while 59 percent do not. Of those that do not use body worn cameras 60 percent say it is because of the cost, 53 percent are still in the planning process and only 5 percent said they do not need them.
The presentations and discussion in the meeting emphasized that most law enforcement agencies using body worn cameras are funding their local initiatives with asset forfeitures or federal grants to purchase the cameras. For example, several speakers announced that the Federal Body-Worn Camera Pilot Implementation Program, a competitive grant program available from the Bureau of Justice Assistance in the U.S. Department of Justice has funding available through June 16.  Information is available here: https://www.bja.gov/Funding/15BWCsol.pdf.
However, two major obstacles to adopting the use of body worn cameras are the significant operating costs associated with data storage costs and staffing costs for handling data requests. The workgroup plans to further study the Freedom of Information Act implications of the technology and data storage issues.
Bill Robertson, Chairman of the Prince George County Board of Supervisors, is the VACo representative on the panel. He emphasized that counties oppose any unfunded mandates in this policy area, but welcome advice from the state on best practices.
The Henrico County Police Department, led by Chief Douglas Middleton, gave a presentation about the county's recent initiative to deploy 100 body worn cameras in the field. Lieutenant Dennis O'Keefe, with the Henrico County Police Division gave a demonstration of body worn cameras and offered to share the research of his team with any county considering this technology.
VACo Contact: Erik Johnston, CAE