January 16, 2015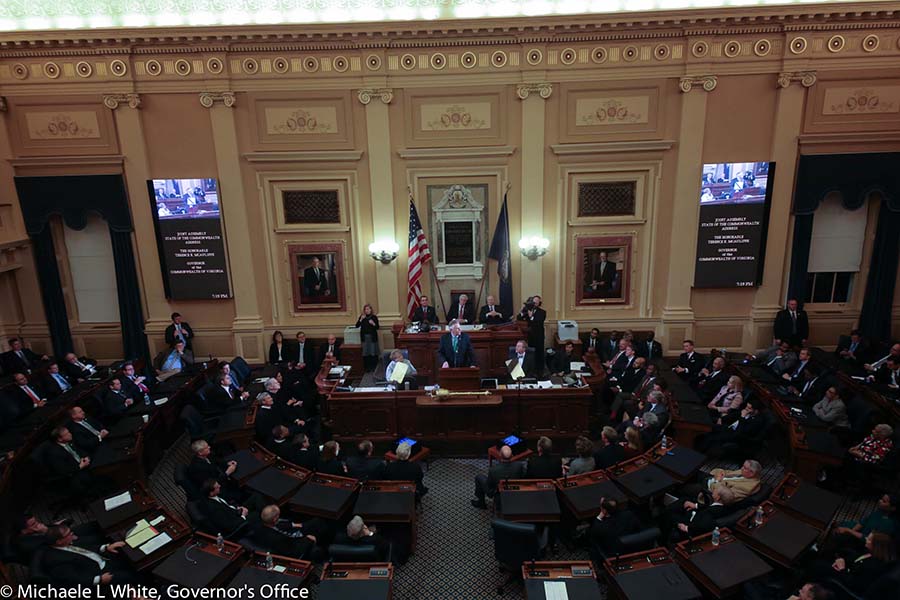 In his State of the Commonwealth Address on January 14, Governor Terry McAuliffe urged the General Assembly to support his administration's economic development efforts and to continue the bipartisan work on reforms to education, transportation and ethics.
"Folks, just one year ago, I stood at this very desk and shared my vision for a stronger, more independent Virginia economy," McAuliffe said to a joint session in the House Chamber. "One year later, I am proud to say that optimism was well-founded."
McAuliffe noted that Virginia has closed 267 economic development deals that resulted in $5.58 billion in capital investment in the first year of his administration.
"We traveled the globe selling Virginia agricultural products, everything from apples to wine, to soybeans to peanuts," McAuliffe said. "I even ate my fair share of fried cicadas and chicken paws. But I will eat anything if it means more jobs and investment here at home."
However, the governor warned that mandatory federal budget cuts or sequestration could return in October. He cited a George Mason University study that reported Virginia lost $9.8 billion in military contracts between 2011 and 2013 and that 154,000 jobs are in jeopardy.
Governor McAuliffe said Virginia's days of relying on federal spending to buoy the state's economy – in good times and bad – are essentially over. He added that to preserve Virginia's position as a global economic leader, lawmakers must open new avenues for growth that are not dependent on federal spending.
"We must grow, strengthen and diversify," he said.
Governor McAuliffe said his budget proposals do not contain cuts to K-12 education and no additional cuts to higher education, which is good news to localities. Another potentially favorable proposal includes the elimination of tax preferences to help close some of the $2.4 billion budget shortfall.
The governor reiterated his desire to give state employees a 2 percent raise, which was eliminated from last year's budget. He said he wants to compromise with legislators on some pay increase.
"If you come to me with a plan to raise state employee pay, I will give it the consideration it deserves, provided that it does not require cuts to education, healthcare or other essential services," he said.
The governor also spoke about stricter limits on gifts to elected state officials. He encouraged lawmakers to pass ethics reform that puts a $100 cap on gifts to public officials, and to establish an advisory committee to investigate and rule on possible violations.
Governor McAuliffe called for two reforms that faced harsh opposition in the past – Medicaid Expansion and gun control measures. Both are likely to be hotly debated during the General Assembly Session.
VACo Contact: Dean Lynch, CAE