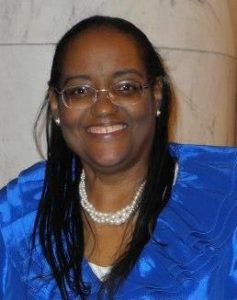 As many of my VACo colleagues know, I'm passionate about health. Serving as a volunteer EMT for many years in King and Queen County has been one of the most rewarding experiences of my life. I've helped set EMS policy at the state level, and worked closely with our regional hospital to be sure that our residents get top-notch care when they need it.
Access to high-quality medical care is critically important to public health, but it's only part of a person's — or a community's — overall well-being. As research in public health has advanced, it's become clear that many factors outside of medical care, such as public safety, education, and transportation, have a profound influence on community health. The U.S. Department of Health and Human Services defines these "social determinants of health" as "conditions in the environments in which people are born, live, learn, work, play, worship, and age that affect a wide range of health, functioning, and quality-of-life outcomes and risks."
Local governments play vital roles in so many of these areas, from funding parks to police, so I am excited to announce my Presidential initiative for this year: Healthy Virginia Counties. VACo will be focusing on promoting healthy communities this year – especially in raising awareness of counties' efforts to promote well-being and helping counties learn from each other's successes. As part of this initiative, I'll be writing a monthly column in County Connections spotlighting innovative programs that have produced positive results in local communities across the Commonwealth, and VACo will be hosting additional educational programming to help counties share information and learn from experts.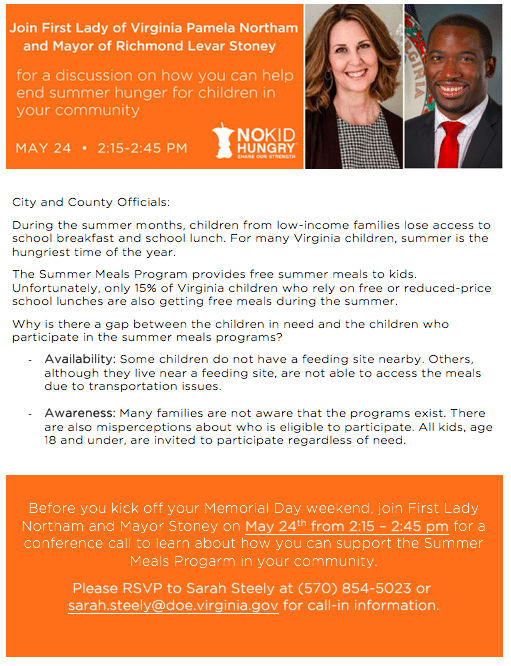 We have an opportunity later this month to learn about a program to improve nutrition for children over the summer, when children who benefit from free- or reduced-price school lunch sometimes go hungry. I hope you will be able to join me on May 24 at 2:15 p.m. for a conference call on the Summer Food Service Program, hosted by No Kid Hungry Virginia with special guests First Lady Pamela Northam and Richmond Mayor Levar Stoney.
Resources
There is a wealth of information available on the health of Virginia communities, and I encourage you to explore some of the recently-released reports that provide data on an assortment of health-related indicators.
I look forward to working with you all to help make Virginia counties the healthiest in the country!