September 4, 2014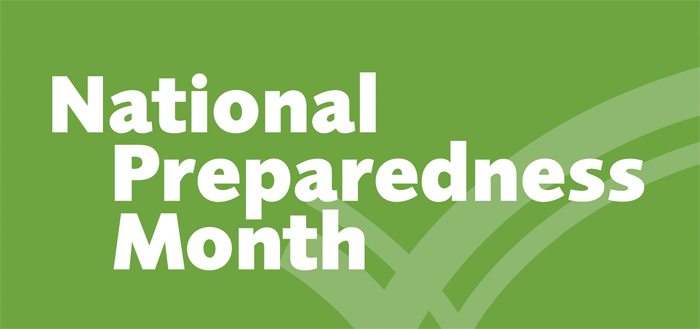 On August 29, Governor Terry McAuliffe recognized September as National Preparedness Month in Virginia, calling on families, business owners and communities to take specific steps to be ready for emergencies. Virginia's counties take a leadership role in emergency preparedness throughout the year and September is a good time to learn about the efforts of other counties and to take stock of state information and resources that are available.
This year, National Preparedness Month features a day set aside specifically for taking actions to get prepared for emergencies.  September 30 has been designated America's PrepareAthon! Day.  To sign up for America's PrepareAthon! go to www.ready.gov/prepare and register how you will take action to prepare in September. The state and localities are encouraging citizens and businesses to take action and participate.
The state outlined the importance of such actions as preparing for tornadoes, creating family emergency communications plans, looking into flood insurance options, creating plans for people with disabilities and downloading the Ready Virginia app for  iPhone® and Android™.
Many of Virginia's Counties are participating in National Preparedness month or implement preparedness awareness strategies throughout the year. Fairfax County's Office of Emergency Management is participating in the awareness month through numerous outreach events, newsletters, online resources and a menu of other actions. Chesterfield County's website includes information about National Preparedness month along with other local resources including a graphic that demonstrates the costs savings to citizens who prepare for emergencies.
Preparedness month is a helpful tool for counties, but it is the year round efforts of counties to bolster public safety and emergency preparedness that are most critical to the safety of our Commonwealth's citizens.
For example Frederick County and Winchester have a joint Local Emergency Planning Committee that includes key public and private sector partners from both jurisdictions along with state agency representatives.
VACo's Achievement Awards program has recognized numerous innovative public safety related programs since the program's inception in 2007. Pulaski County's "Emergency Management Deputy Coordinators" Program recently won this distinction in 2014. This initiative provides an innovative example of a rural county meeting the unique staffing challenges faced by the 24-7 nature of emergency coordinator positions.
The National Association of Counties also has numerous resources and best practices available on the topic of preparedness through the NACo Resilient Counties Initiative.
VACo commends its membership for their efforts to enhance our Commonwealth's preparedness efforts and encourages your county to participate in National Preparedness Month. More information on the Commonwealth's efforts to promote actionable steps during preparedness month are outlined in the Governor's press release and the Virginia Department of Emergency Management's website.