September 17, 2013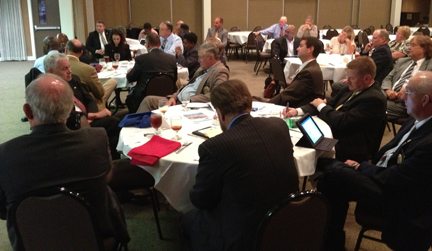 On September 3, VACo staff met with Region 1 county representatives at the Airfield Conference Center in Sussex County where all seven Region 1 counties were represented.
Surry County Board of Supervisor member and Region 1 VACo Board representative, Judy Lyttle, moderated the well-attended meeting.
She handed the reins to VACo staff Jim Campbell, Dean Lynch, Beau Blevins and Erik Johnston to identify 2014 legislative issues brought about during VACo's Summer Steering Committee meetings held in mid-August.
During the County representative comment portion of the meeting, several concerns were raised over Environment and Agriculture issues. One had to do with stormwater management and the DEQ requirement for the state to keep 30 percent of fee revenue to operate programs. Another dealt with the expansion of the Right to Farm Act and noted that the language of last year's bill took away local options. Concern over the privatization of on-site sewer was also raised. The effect of the septic tank pump out (every 3-5 years) and the impact on low income and elderly households was also discussed.
Concerns were raised about how to manage Group Homes and their impact on neighborhoods, toll on local police and headache for planning departments.
Education issues were discussed. The Opportunity Educational Institution (OEI) program's downfalls were talked about, mainly around the lack of accountability and funding issues should the state have to take over. Also discussed was the teacher unfunded pension liability.
A request was made to the VACo Finance Committee to look into K-12 funding and the lottery, specifically legislation that would add revenue to counties based on place of purchase. Concern was expressed that state general funding for K-12 education has been reduced and supplanted with lottery revenues.
Concern was expressed about the decrease in budgets and the difficulty in operating programs. Expanding on that, it was requested that the state provide a long-range plan showing its goals in general funding, but specifically mentioned were education and transportation.