July 15, 2015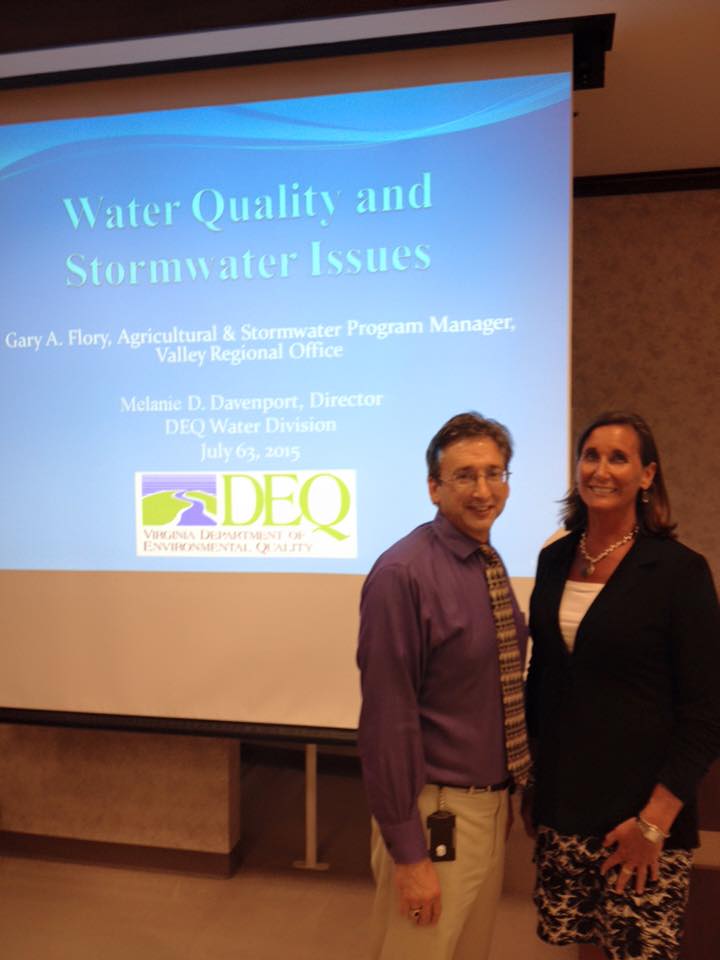 County, regional and state leaders from VACo Region 6 gathered on July 6 in Shenandoah County to learn more about issues affecting area localities.
The meeting was planned and led by VACo Region 6 Director and Clarke County Supervisor Michael Hobert. Shenandoah County Supervisor Dr. Conrad A. Helsley and his fellow supervisors and staff hosted the meeting and welcomed attendees.
Holbert and Helsley stressed the importance of working together to express their local and regional issues to VACo and the members of their General Assembly delegation.
Discussions about Virginia's stormwater laws and regulations dominated the meeting. Representatives from the Department of Environmental Quality (DEQ) informed attendees about some significant changes to Virginia stormwater programs that are being considered by a 20 member stormwater Stakeholder Advisory Group (SAG).
The purpose of this SAG, which was convened by DEQ earlier this year, is to recommend legislative changes intended to better integrate the Virginia's Stormwater Management Act, the Erosion and Sediment Control Law, and certain components of the Chesapeake Bay Preservation Act. The SAG is scheduled to complete its work by the end of September.
Melanie Davenport, Director of DEQ's Water Division, and Gary Flory, Agricultural and Stormwater Program Manager for DEQ's Valley Regional Office, represented the agency at the meeting. Click here to view their presentation.
There were two other policy concerns raised by county officials. The first was related to the need to improve the conditions of roads in rural areas. The second was focused on alternative onsite wastewater treatment systems, and the issues raised by failing systems.
Delegate C. Todd Gilbert and Senator Mark D. Obenshain actively participated in the meeting.
Delegate Gilbert thanked VACo and its members for their active involvement with legislation passed by the 2015 General Assembly dealing with Ethics Reform.
Senator Obenshain talked mostly about the challenges the 2016 General Assembly will face as it considers a new budget for the next biennium, and how many different needs will compete for a limited amount of money. Delegate Randy Minchew's aide also participated in the meeting.
Click here for a recap of the meeting.
VACo Contacts: Larry Land, CAE and Beau Blevins