August 20, 2015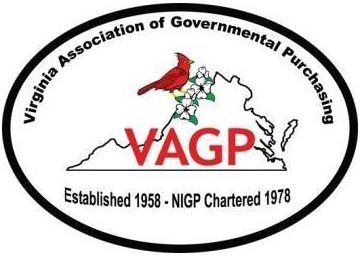 By Mary Wilson | PPB, VCA
VAGP Legislative Co-Chair for Small Towns
The Virginia Association of Governmental Purchasing (VAGP) represents over 1,100 procurement professionals working in public entities in the Commonwealth of Virginia (state and local governments, educational institutions, special authorities, etc). VAGP is the largest chapter of the National Institute of Governmental Purchasing (NIGP). VAGP supports education, training, and certification for the state's procurement professionals. Through our affiliation with the NIGP we host many classes each year that are foundational for new professionals or specialized for more tenured practitioners. VAGP gives our members a platform for training, information and ideas to share with other entities.
Our robust legislative committee makes VAGP unique among our peers. The legislative committee is made up of volunteers representing all the association's many constituencies. The legislative committee supports the principles of the Virginia Public Procurement Act. During the General Assembly session, all procurement bills are assessed for anticipated impact and a position is established. The Legislative Committee provides updates to members on current legislation effecting public purchasing. This year the Legislative Committee presented a webinar for members explaining the impact of the recent legislative changes. The Legislative Committee lobbies for updates or enhancements to the state procurement code with the assistance of a professional lobbyist.
At this writing, the Legislative Committee is busy building our legislative priorities for the 2016 General Assembly session in collaboration with other stakeholders on issues such as cooperative contacting, newspaper advertising requirements, and small, women and minority-owned business definition. VAGP often partners with the Virginia Association of Counties and the Virginia Municipal League on procurement lobbying and legislation. We value these partnerships as they make our communication with the General Assembly more impactful for all.