June 17, 2014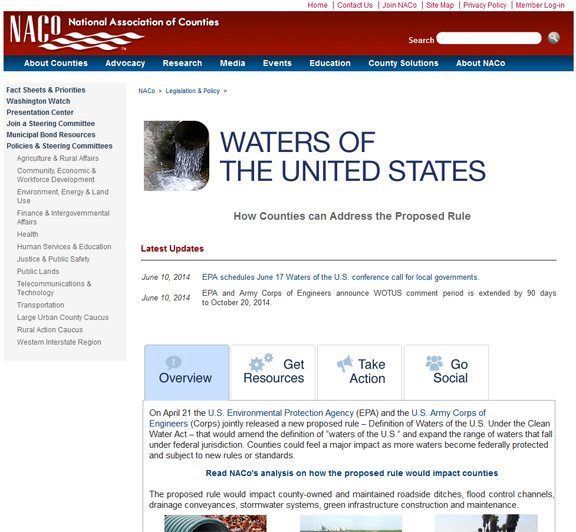 By Larry Land
The National Association of Counties launched a website that is designed to serve as a convenient, one-stop resource relating to the new definition of "Waters of the U.S." (WOTUS) proposed on April 21 by the U.S. Environmental Protection Agency (EPA) and the U.S. Army Corps of Engineers.
County officials in Virginia are encouraged to utilize this website, which provides the following critical information:
• Comprehensive analysis on how the proposed rule would impact counties, including a policy brief, comparison chart and current NACo policy.
• Suggested draft comments on WOTUS for submission to the agencies and Congressional members.  The current deadline for submitting comments is July 21.
• Links to EPA and Corps' proposed rule and the agencies' economic cost benefit analysis of the proposed rule.
The proposed rule would amend the Clean Water Act's (CWA) current definition of "waters of the United States," which has been in place for 25 years and would expand the range of waters (and their conveyances) that fall under the federal regulation.  The new rule could have significant impacts on county operations relating to roadside ditches, flood control channels, stormwater culverts and pipes, water and water transfer rights, implementation of water quality and land use plans, floodplain management, onsite water treatment and management systems.
Source: National Association of Counties
EPA schedules "Waters of the U.S." Conference Call for Local Governments
EPA has scheduled a Local Government Stakeholder Conference Call on June 17.  This conference call will provide an opportunity for county officials to learn more, and raise questions about EPA's proposed rule to re-define "waters of the U.S." under the Clean Water Act.
To assist operators, please dial in 10 minutes prior to the start of the call. Details about the call are below:
• Date and Time of the Call: June 17, 2014 from 3 – 4:30 p.m.
• Phone number: 1.877.312.7961
• Conference ID#: 56618674