December 18, 2013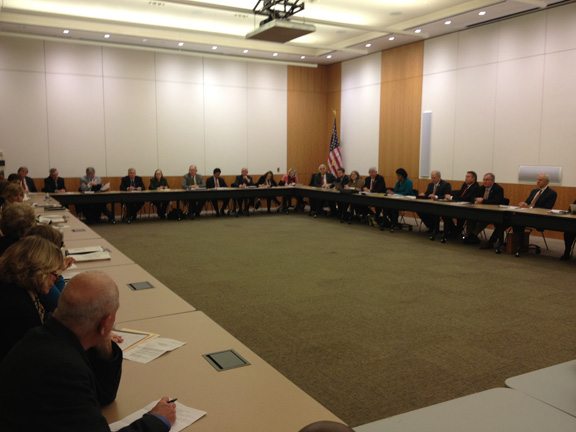 The Local Government Transition Council met December 12 for the first time. The council is a creation of Governor-Elect Terry McAuliffe.
Below is a list of county officials who serve on the Transition Council. VACo President Harrison Moody serves as co-chair of the council. The group will advise McAuliffe's transition team on issues relating to local government, helping to map goals, challenges and opportunities for the next four years.
Anne Mallek, Chair, Albemarle County; Ronald Spiggle, Vice Chair, Appomattox County; Walter Tejada, Chair, Arlington County; David Beyeler, Supervisor, Augusta County; David Hutchins, Chair, Carroll County; Arthur Warren, Supervisor, Chesterfield County; John Staelin, Supervisor, Clarke County; Harrison Moody, Supervisor, Dinwiddie County; Sharon Bulova, Chair, Fairfax County; Chester Stribling, Vice Chair, Fauquier County; Tyrone Nelson, Supervisor, Henrico County; David Blanchard, Supervisor; Highland County; John McGlennon, Chair, James City County; Larry Mosley, Supervisor, Lee County; Scott York, Chair, Loudoun County; Wayne Carter, County Administrator, Mecklenburg County; John Miller, Supervisor, Middlesex County; Mary Biggs, Supervisor, Montgomery County; Constance Brennan, Vice Chair, Nelson County; Sherman Vaughn, Chair, Nottoway County; James Snead, Supervisor, Pittsylvania County; William Robertson, Chair, Prince George County; John Jenkins, Supervisor, Prince William County; Joseph Sheffey, Chair, Pulaski County; William Kyger, Supervisor, Rockingham County; Jon Bowerbank, Chair, Russell County; Robert Thomas, Vice Chair, Stafford County; Judy Lyttle, Supervisor, Surry County; Rosemary Mahan, Supervisor, Westmoreland County.