December 3, 2015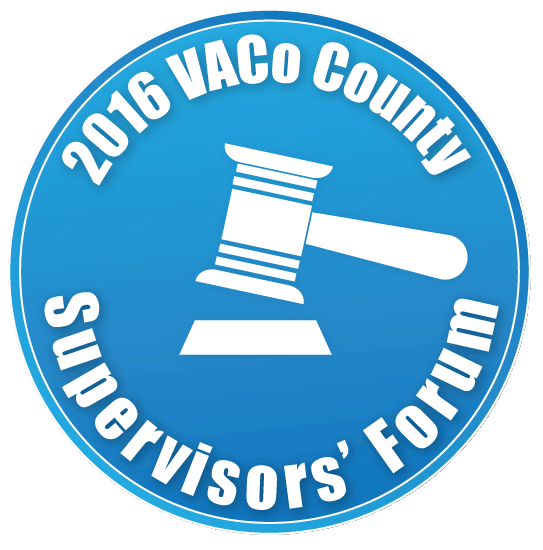 VACo County Supervisors' Forum
January 8-10, 2016
Richmond Marriott Short Pump
Registration Form | Register Online | Richmond Marriott Short Pump
Whether you are a newly-elected or incumbent supervisor, chief county administrative officer or other government manager, VACo County Supervisors' Forum provides you with a crash course in critical issues facing counties today. Board members come join us to receive the tools, connections and information you need to steer your county forward. VACo offers this program only once every two years, so don't miss out and have to wait until 2018!
Attendees at the full registration rate receive a packet at registration that is chock full of helpful resources at no extra cost. Items included are a copy of the Board Meeting Procedures booklet (usually $10 per copy), as well as the 7th Edition of the Supervisors Manual (usually $35 per copy). Other helpful resources include a pocket constitution and the "2016 Elect No Strangers!" booklet. In addition to these helpful materials, registrants receive a binder of presentations and handout materials. Guests can attend group meals at a reduced registration rate.
Presentation topics include an overview of Supervisors' responsibilities, constitutional officers, Public Records and FOIA, Land Use and Planning, Budgeting, Health and Human Resources information, Transportation and Environmental issues. No other conference provides this variety of information regarding Virginia in such a short amount of time. Attendees leave with an understanding of what to expect during their time as supervisors, as well as what is expected of them.
Lodging costs are not covered in either registration fee. Reservations can be made by contacting Richmond Marriott Short Pump directly at 804.965.9500 by December 18 with this code: VACo New Supervisors' Meeting.
To register, please fill out a registration form and fax or mail it to VACo or register online. A preliminary agenda is also available online. This will be updated as we finalize speakers. Please check back frequently for information and if you have questions, please feel free to contact us.
VACo Contacts: Larry Land, CAE |  Amy Elizabeth Vealey, CMP