June 17, 2014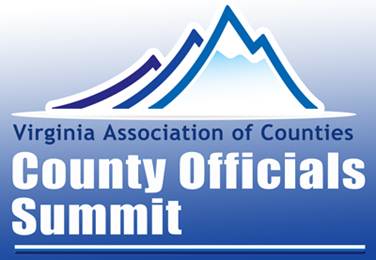 As county elected officials, administrators and staff, you understand and stress the importance of education to your constituents and community.
But do you always practice what you preach?
Some supervisors don't take adequate time to educate themselves on the latest issues, trends and developments that affect the way they govern.
That's why one of VACo's priorities is to make continuous learning a hallmark for all county leaders and staff.
Please join us for the first ever County Officials Summit on August 14-15 in Henrico County.
COUNTY OFFICIALS SUMMIT
August 14-15
Richmond Marriott West
The Summit will kick off August 14 with an educational event that will focus on important issues facing Virginia's counties. Many local, state and federal experts, cabinet officials and legislators will address attendees on topics ranging from finance/budget, transportation, economic development, environment and other pressing issues.
"We are developing a broad range of events for our education program," said Phyllis Errico, VACo General Counsel and Director of Education. "The marquee event is our County Officials Summit. We expect the Summit will give our members the information and knowledge they need to better serve their community."
The Summit will also include Steering Committee meetings on August 14-15. Steering Committees convene to receive updates from experts on topics of interest and to consider and debate advocacy proposals for inclusion in VACo's legislative program. If you haven't signed up for a steering committee, please visit www.vaco.org/legislative/steering-committees for more information.
VACo staff will post updates about the Summit in County Connections as well as on www.vaco.org. We look forward to seeing you at the County Officials Summit on August 14-15.
For more information, please contact Phyllis Errico at perrico@vaco.org.