July 15, 2015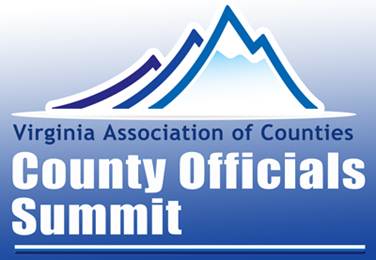 Please join us for the County Officials Summit on August 13-14 in Henrico County.
COUNTY OFFICIALS SUMMIT
August 13-14 | Richmond Marriott West
Summit Agenda | Summit Registration Form | Summit Webpage | Online Registration
The Summit will start with a half day of education on August 13 focusing on finance, workforce and economic development, federal issues, transportation and land use. These topics will be presented by cabinet members and other local, state and federal speakers.
VACo Steering Committees will meet on August 14 to receive updates on topics of interest and to consider and debate advocacy proposals for inclusion in VACo's legislative program. If you haven't signed up for a steering committee, please visit VACo's website for more information.
This event is free to VACo members and open to non-members for $25. We ask that everyone complete a registration form. Attendees and their guest can also stay at the Richmond Marriott West for $83 per night by calling 804.965.9500 and asking for the VACo County Officials Summit rate, or using this link to our dedicated webpage.
VACo staff will post updates about the Summit in County Connections as well as on www.vaco.org. We look forward to seeing you at the County Officials Summit on August 13-14!
VACo Contact: Amy Elizabeth Vealey | 804.788.6652