October 2, 2015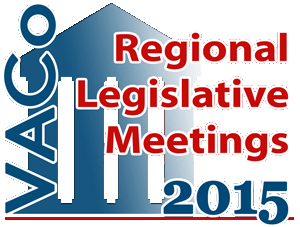 Region 9 Legislative Meeting
Tuesday, October 6 | 7-9 p.m.
Rockingham County Administration Center
20 East Gay Street | Harrisonburg, VA 22802
AGENDA
Dear VACo Region 9 Members:
We are excited to bring a 2015 VACo Regional Legislative Meeting to your area and invite you to attend. This is an opportunity for county leaders to discuss local and regional problems and solutions. We expect a robust discussion and your attendance adds to the value of the meeting.
Expected attendance includes Board Chairs, Vice Chairs, Supervisors, area legislators, planning district commissions, county administrators and executive staff from Alleghany County, Amherst County, Augusta County, Bath County, Highland County, Rockbridge County and Rockingham County.
VACo will also invite your state and federal legislators. The event format allows for lawmakers to hear your concerns and answer your questions.
The meeting will take place on Tuesday, October 6 from 7 to 9 p.m. at the Rockingham County Administration Center, 20 East Gay Street, Harrisonburg, VA 22802.
See the draft agenda for additional details.
We encourage you to attend and represent your county. Light snacks will be provided. Please RSVP to vrussell@vaco.org.
Sincerely,
Beau Blevins
VACo Director of Intergovernment Affairs