August 6, 2014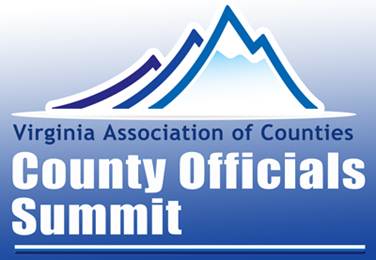 Next week VACo hosts the first-ever County Officials Summit at the Richmond Marriott West. The August 14-15 event will focus on key issues facing Virginia's counties.
Local and state experts, cabinet officials and Virginia legislators will address attendees on topics ranging from finance/budget, transportation, economic development, environment and other pressing issues.
"We are excited to offer this educational event to our members," said Phyllis Errico, VACo General Counsel. "The agenda is set, and we believe the lineup is excellent. We expect the Summit will educate our members on the important issues that are affecting counties today. We hope with the information and knowledge our members gain, they can better serve their communities."
The lineup includes two House of Delegates members and three cabinet members. The full lineup of speakers is below in order of appearance at the Summit.
Transportation Planning
The Honorable Aubrey Layne, Secretary of Transportation
Value Added Agriculture
Travis Hill, Deputy Secretary of Agriculture and Forestry
Health & Human Resources Issues
The Honorable William Hazel, Secretary of Health and Human Resources
Federal Issues of Interest to Counties
Deborah Cox, NACo Director of Legislative Affairs
Political Leadership
The Honorable John O'Bannon, 73rd District, House of Delegates
Economic and Workforce Development
The Honorable Maurice Jones, Secretary of Commerce and Trade
State Budget Challenges
TBA
Virginia Economic Environment
Jim Regimbal, Principal, Fiscal Analytics
Stormwater Challenges
The Honorable Ed Scott, 30th District, House of Delegates
In addition to the educational component of the Summit, all seven VACo steering committees will meet to receive updates from experts on topics of interest and to consider and debate advocacy proposals for inclusion in VACo's legislative program. Also, the VACo Leadership Series will meet Thursday morning to discuss the association's communications and member outreach programs efforts.
We look forward to seeing you at the County Officials Summit on August 14-15.
Click here for the agenda | Click here for the registration form | Contact Phyllis Errico at perrico@vaco.org for more information.