September 4, 2014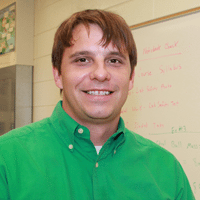 VACo recently sat down with Jason D. Bellows '14, Lancaster County Supervisor, to discuss the Virginia Certified County Supervisors Program. Jason is the 5th generation of his family to call the third district home. He earned a biology degree from Radford University and is currently a science teacher at the local high school where he graduated in 1995.
Education is Jason's passion and was the inspiration for his Lancaster County Board of Supervisors election in 2011. He feels that educational opportunities should be the impetus for economic development and success in Lancaster County.
Jason is the youngest member to ever serve on the Lancaster County Board. He quickly discovered that networking and knowledge are two keys to success as an elected official.
"The VACo Supervisors Certification program offers just those key assets," Jason said. "You often think that the problems you face in your locale are unique or in isolation but in fact through the networking opportunities afforded through this program, you realize that many areas and other supervisors face the same issues. The friendships and professional bonds made during the classes make for more informed decision-making and a vetting process to see what has worked and what has not."
Listen to Jason's interview by clicking here.