January 7, 2015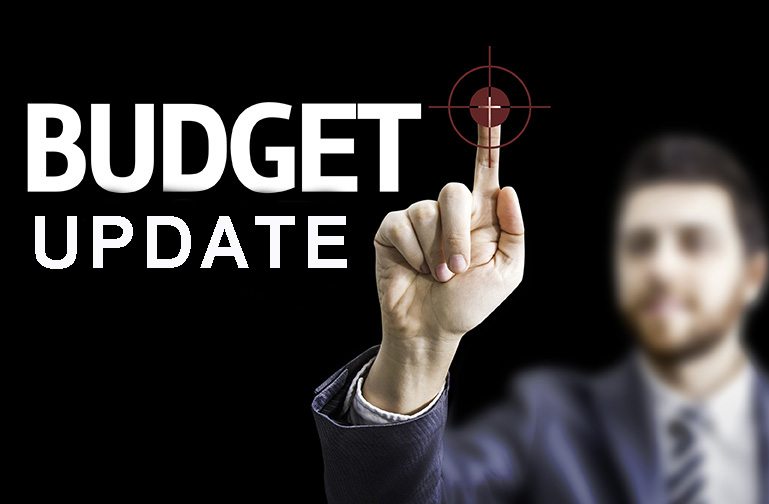 By Jim Regimbal
Fiscal Analytics, Ltd.
The 2014-16 general fund budget has improved since the General Assembly last adopted changes in November. After November, there was still a $322 million budget deficit that needed to be closed. To solve this remaining deficit, the Governor's introduced budget proposes additional GF resources of about $194 million and additional net savings of $305 million.  This allowed new spending proposals in the introduced budget of $177 million to fulfill mandatory and high priority needs.  In addition, $250 million in estimated new unclaimed property proceeds has been announced for deposit to the Literary Fund.  Literary Fund revenues can be used for school construction or teacher retirement funding purposes.
The $194 million in proposed new GF revenues includes $114.3 million in tax policy changes — $56.5 million from reducing various tax preferences (primarily modifying land preservation and coal tax credits and long-term care insurance deductions); and $57.8 million by re-instituting accelerated sales tax collections for mid-size retailers.  Other revenue changes included a $34.5 million re-forecast of revenues, $13 million in additional ABC excise tax collections, $10 million in savings from the private school scholarship program, and $23 million in other miscellaneous revenue changes. Of particular interest to local governments was the Governor's proposed change in treatment of the sales price for online travel companies. Changing the basis for calculating sales tax from the wholesale price paid by travel companies to the retail price paid by consumers would also benefit locality transient occupancy tax collections.
Major general fund savings were also found to help close the final budget gap. The largest savings resulted from a re-forecast of Medicaid program spending – $216 million. Medicaid spending is now forecast to grow by 4.6 percent in FY 2015 and 5.3 percent in FY 2016. This year's forecast expects lower managed care rate increases, smaller hospital supplemental payments, higher savings from behavioral health reforms, and smaller enrollment increases than previously expected from outreach efforts through the federal health insurance exchange.
Other new major general fund savings are the result of $54 million in additional growth in lottery and literary funds used to offset general funds for K-12 public education; a savings of $31 million from less K-12 enrollment growth than expected; and state employee benefit savings of $26 million. Additional general fund debt service savings of $24 million from lower interest rates also were realized. Numerous smaller targeted savings are included in the budget as well.
Proposed new spending was concentrated in prison offender medical costs ($31 million), Governor's Opportunity Fund increases ($21 million), DMAS intellectual disability facilities, involuntary mental commitments and administrative costs ($15 million), mental health treatment centers ($13 million), local jail per diem payments for FY 15 ($11 million), and information technology/telecommunication payments ($11 million). For local governments, a significant change in the budget was the restoration of statutory jail per diem payments for FY 2015. FY 2016 jail rates are still underfunded and unlikely to be addressed in the upcoming session. K-12 public education budget changes were mostly technical in nature, although lower pupil counts and sales tax forecasts will cost school divisions $37 million. While a small change was made to entry level deputy sheriff salaries, no changes were proposed for Aid to Police Departments, despite the statutory policy of growing payments at the rate of general fund revenue growth.   In the Department of Social Services, funding for local eligibility staff was increased by 3 percent adding about $2 million per year.
The biggest surprise in the introduced budget was the addition of $250 million in Department of Treasury unclaimed property proceeds transferred to the Literary Fund. Since inception, over $1.28 billion in unclaimed property assets have been transferred.  The bulk of the additional unclaimed property proceeds are from stock certificates issued by companies that "demutualized" years ago, such as Blue Cross/Blue Shield (now Anthem/Wellpoint) and Metlife. Demutualization is a process whereby a company changes from one owned by its policyholders to a regular C-corporation with stockholders. This conversion and issuance of stock resulted in unclaimed stock certificates. The state has held these unclaimed stock certificates until it was clear there was little chance the original owners could be found. The state has also benefitted from an appreciation in the value of the company stock over time. Note that even after unclaimed proceeds are transferred to the Literary Fund, individuals have the right to claim their property, and the state would reimburse at the value at time of sale.
The Governor is proposing to use the $250 million in four ways:
Deposit $150 million directly into the VRS Teacher Retirement Fund.  This will reduce the unfunded liability and lower FY 2016 rates and beyond by approximately 0.35 percent – saving the state $10.4 million and localities $14.5 million per year;
Directly offset state general fund teacher retirement contributions by $25 million;
Deposit $50 million into the Literary Fund for school construction loans; and
Use $25 million for interest rate subsidies to lower the Literary Fund loan rates for school construction.
The Bottom Line: Expect the General Assembly to modify the Governor's proposal on how to spend the additional $250 million unclaimed property proceeds. For example, additional Literary Funds (instead of only $25 million) could be used for teacher retirement contributions, instead of school construction loans. This would free up general funds for spending in other areas of the budget.
VACo Contact: Dean Lynch
1. http://sfc.virginia.gov/pdf/committee_meeting_presentations/2013%20Interim/101713_No5_UCP.pdf