May 19, 2015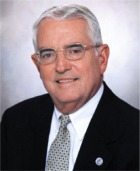 Supervisor David Kaechele was recently named the 2015 Henrico Community Leader of the Year by the Henrico Business Council of Greater Richmond Chamber. The annual award recognizes a citizen who has positively impacted the community and shows support, dedication and enthusiasm for the well-being and growth of the county.
Kaechele will retire at the end of the year after serving Henrico for 36 years. Henrico County has employed eight County Managers since 1934. Kaechele has served with four of them. He is also the only Henrico County Supervisor who has been elected to nine terms and on January 1, 2004, Kaechele became the longest serving Supervisor in Henrico County history.
"For 36 years, Dave Kaechele has provided a shining example of excellence and servant leadership to the citizens of Henrico County," County Manager John Vithoulkas said in a release. "As the longest-serving member of the Board of Supervisors in modern history, Mr. Kaechele has guided Henrico as its population has grown by more than 75 percent and his own Three Chopt District has evolved into one of the premier retail and commercial centers on the East Coast. His calm, steady leadership has helped make Henrico one of the best and most respected communities in the country. It has been truly an honor to work alongside such a gentleman of wisdom, generosity and grace."
During Kaechele's 36 years of service, Henrico County's real estate tax rate has not increased and in fact was lowered six times. Kaechele has developed and sustained a reputation for his honesty, responsiveness and dedication. He is deeply respected by other Board members, county employees, constituents and local and state officials from the region.
In 2012, Henrico County Public Schools honored Kaechele naming a new school after him, David A. Kaechele Elementary School.