October 18, 2013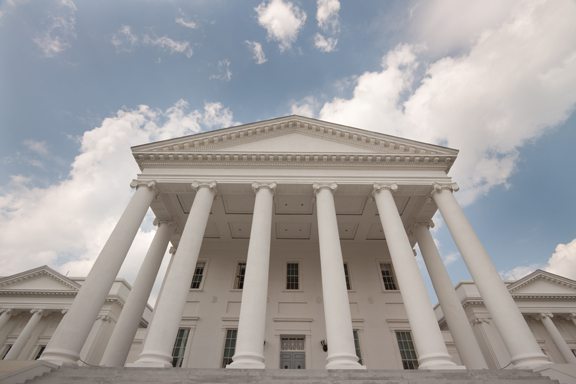 VACo asked Republican Ken Cuccinelli, Democrat Terry McAuliffe and Libertarian Robert Sarvis to state their positions on three issues pertinent to counties. VACo thanks the gubernatorial candidates for participating.

Local Business Taxes (BPOL, Machinery & Tools and Merchants Capital)
Cuccinelli: In anticipation of the effects of federal budget cuts and the need to jump start small business growth within Virginia to offset the spending cuts, it is critical that pro-growth tax reform be implemented to increase jobs and provide tax relief for Virginia's families. With a reduced corporate tax rate of 4 percent, Virginia would have the lowest maximum corporate tax rate among all 43 states that have a corporate income tax. By reducing the personal income tax rate from 5.75 percent to 5 percent and indexing it to inflation we would lower taxes for the average family between $400 to $700 per year.  We would have to cap spending at the rate of inflation plus population and eliminate approximately 15 percent of tax exemptions to cover the cost of the tax cuts. This plan would create over 58,000 jobs, increase business investments by $650 million, and generate real disposable income by $3.6 billion. Whereas, my opponent's plan, would raise taxes for the average Virginian family by $1,700 per year.
In terms of local business taxes, I will establish a Small Business Tax Relief Commission with the following strategic goals:
1. Seek ways to eliminate or reduce the harmful effects of the Business Professional Occupational License (BPOL) Tax, the Machine and Tool (M&T) Tax, and the Merchants Capital (MC) Tax, while maintaining local government revenue.
2. Identify and eliminate outdated exemptions and loopholes to pay for the tax cuts.
My view of all tax credits, preferences or loopholes is that they all should be reviewed at this time for their economic merit.  Those that have a proven record of success and will help us weather the federal budget cuts and propel rapid economic growth should remain in place.  Those that demonstrate that they no longer offer economic merit should be eliminated with the revenue directed to the localities.  Let me be clear, I am well aware of the disparity of revenue levels and value of these local business taxes to local communities.  If the localities cannot be kept whole, we will not go forward with the elimination or reduction of these local taxes.
McAuliffe: Regarding local business taxes, I have been clear that I have two goals, which should not be in conflict if properly approached. First, I would like to give local governments the ability to reduce or eliminate these taxes if that's a goal they would like to pursue. Second, I will not support proposals that would reduce a local government's ability to maintain its revenue structure. My solution is to convene a commission, made up of local and state elected officials, representatives from VACO, VML, and Virginia First Cities, and tax experts.  This commission would be charged with creating a "menu" of new, local revenue streams that could be used to replace or reduce local business taxes. These changes would be completely at the discretion of the locality and should leave them with more options, not fewer.
Regarding broader tax reform, I am open to the idea and look forward to discussing it with leaders in local government, the legislature, and the business community. Tax reform, done properly, can help to buttress the Commonwealth's general fund that finances most core government functions. JLARC recently studied a broad swath of the Commonwealth's tax preferences and there is clearly bipartisan agreement that positive change is possible.
Sarvis: Local business taxes are inefficient ways to raise revenue, and they lack transparency, hiding the cost of government from voters and overly burdening businesses. They should be eliminated, and local governments should be given authority to raise revenue via a more efficient, more transparent, broad-based tax. I support comprehensive tax reform that replaces as much of the income tax as possible with a uniform consumption tax, i.e., a uniform tax on all final retail sales of goods and services. All loopholes, tax deductions, exemptions, special valuations, special rates, tax credits, etc., should be eliminated.
Funding of Public Education K-12
Cuccinelli: The current budget for K-12 education for FY 2014 is $5,405.1 million from the General Fund and and $1,516.2 million from the Non-General Fund. K-12 Education is one of the largest portions of the General Fund Budget.
Inherent in the current system is the lack of a continuum of rewards and consequences for school performance.  Schools and school divisions that excel or perform above average receive no relief from regulatory input requirements. On the opposite end of the spectrum, the state is not empowered to create or enforce real and substantive consequences for schools or school divisions that repeatedly fail to educate children.
Therefore I intend to provide local jurisdictions with block grants with the Standards of Quality absent the mandates to enable local school boards to have flexibility to fund staffing for classroom needs.
McAuliffe: As Governor I will support full funding for the biennial re-benchmark of Virginia's Standards of Quality (SOQ). It is essential for the state to fund fully its constitutional responsibilities and all mandates associated with K-12 public education. While the coming budget may present challenges, it has always been my view that education is an investment, not an expense, and one we should fund as fully as budget conditions permit.
I am firmly opposed to unfunded mandates on localities whether they are explicit mandates or are hidden in changes to Virginia's school funding formula. The state should properly meet its obligations within the confines of its own budget.
Sarvis: The state government should focus on adopting a universal school choice program that empowers parents and teachers rather than politicians and bureaucrats; eliminate mandates on local jurisdictions; eliminate or reform teacher licensure and school accreditation; and eliminate SOLs and SOQs.
I agree that unfunded mandates should be ended, as should many funded mandates as well. State mandates are a source of  administrative bloat in the public education system. Local autonomy should be increased, while state efforts and funds are focused on developing a universal school choice program and an open and competitive market place in schools and education services.
Unfunded Mandates especially Unfunded Teacher Liabilities
Cuccinelli: At this point, I am concerned about the significant liability that we have in the Virginia Retirement System. I don't think we should borrow from the fund to pay for other budget items when revenues are down. As Governor, I will work to fund the remaining liability as a significant portion of state and public employees vested in the VRS are nearing retirement age now.
I support and appreciate the work of Gov. McDonnell's Task Force for Local Government Mandate Review, and I intend to extend the work of this commission through my term. We will need a local government liaison with the Governor's office and state agencies to continue the work to reduce the local government mandates. I would support a new rule for the General Assembly sessions that any legislation that imposes local government requirements must be introduced on first day of the session to allow the localities, legislative services, the Department of Planning and Budget, and the Tax Department enough time to do a cost benefit analysis that is conducted in a uniform manner. I believe that all mandates should have a sunset clause.
McAuliffe: Local governments and the state share responsibility for paying the cost of teacher pensions, but the state government must do all it can to protect the bond ratings of local governments, including taking steps to ensure that the full future liability of teacher pensions does not fall on our local governments in a way that could hurt their bond ratings.
As Governor, I will oppose unfunded mandates by the Commonwealth. When legislation with a cost to localities is passed by the General Assembly, the cost should be borne by the Commonwealth, and the legislation should contain a sunset clause providing that the mandate is not binding on localities until funding by the Commonwealth is provided. I oppose the shifting of fiscal responsibility from the state to localities for existing programs. Any unfunded mandate or shifting of responsibility should be accompanied by a full fiscal support. Fundamentally, it is the responsibility of the state to meet its own obligations, not pass them down to local governments already struggling to provide services to their citizens.
Sarvis: State and local governments should pay their share of fully funding the promises made by the pension system. However, state and local governments should not maintain a pension system that makes taxpayers bear long-term pricing and investment risk; instead, we should reform the pension system toward defined contribution plans.
I support getting rid of unfunded mandates, and most funded mandates, too.