October 15, 2015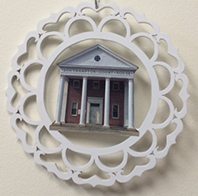 Southampton County's Governor's Mansion Holiday Tree ornament was created by Jesse "Bill" Vick.
As a master woodworker, Vick creates ornaments for family and friends. For his Southampton County ornament, Vick used the scroll saw and created this intricate ornament from Finnish Baltic Birch, and then included a photo of the Southampton County Courthouse in the center. Before creating beautiful ornaments, Vick was employed by Southampton County for 24 years. Thank you for sharing your beautiful work, Bill!
Don't forget! The deadline for submissions is November 1. Don't let your county miss out on this unique opportunity!