August 20, 2014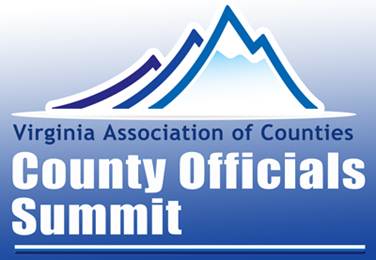 Around 140 local government representatives attended VACo's County Officials Summit on August 14-15. The two-day educational event focused on key issues facing Virginia's counties today.
"From written reviews and verbal feedback, it appears our members enjoyed the Summit and were impressed by all the speakers," VACo Executive Director Jim Campbell said. "We were excited to have great attendance. It was a positive experience, and we look forward to doing it again next summer."
The event featured two Delegates, three cabinet secretaries, one deputy secretary and four legislative and budgetary experts as speakers. Governor Terry McAuliffe capped off the Summit by meeting with officials to discuss the state budget shortfall.
Fairfax County Chairman and VACo Board Member Sharon Bulova urged the governor to avoid long-term damage to local governments through formula cuts and to focus on minimizing reductions to local governments with any cutbacks being one time, rather than permanent. The governor acknowledged the point and said he was not in favor of imposing more mandates.
In addition to the educational component of the Summit, all seven steering committees met to receive updates from experts on topics of interest and to consider and debate advocacy proposals for inclusion in VACo's legislative program.
Also, the VACo Leadership Series gathered to hear a presentation on the association's communications and member outreach efforts.
VACo Staff is now working on the annual conference and is assembling another top-notch educational lineup. Stay tuned to County Connections for more information on featured speakers and breakout sessions. Check out the latest Annual Conference update on Page 6.
Click on the name to view their presentation from the County Officials Summit.  Click here to view Summit webpage.
Economic and Workforce Development
The Honorable Maurice Jones, Secretary of Commerce and Trade
Watch the video
Transportation Planning
The Honorable Aubrey Layne, Secretary of Transportation
Watch the video
Value Added Agriculture
Travis Hill, Deputy Secretary of Agriculture and Forestry
Watch the video
Virginia Economic Environment
Jim Regimbal, Principal, Fiscal Analytics
Watch the video
State Budget Challenges
Betsey Daley, Staff Director, Virginia Senate Finance Committee; and Joe Flores, Legislative Fiscal Analyst, Virginia Senate Finance Committee
Watch the video
Federal Issues of Interest to Counties
Deborah Cox, NACo Director of Legislative Affairs
Watch the video
VACo Contact: Phyllis Errico