May 19, 2014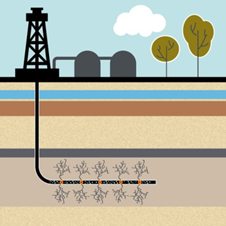 More than 60 local officials attended the VACo Fracking Workshop on May 1 in Hanover County. The workshop featured five speakers who covered many aspects of the topic.
"It was a productive and informative educational event that benefitted our members," said VACo General Counsel Phyllis Errico, who moderated the workshop. "I'd like to thank our speakers. Their presentations were thorough, and they also offered tools to address specific issues."
VACo will continue to closely monitor developments associated with fracking, which has emerged as a significant issue to local governments. The presence of gas and oil deposits in the Taylorsville Basin as well as the George Washington National Forest have caused concerns regarding fracking in several parts of the state.
During the workshop, Mike Skiffington, Program Manager with the Department of Mines, Minerals and Energy, informed attendees of DMME's plans to develop regulations relating to the fracking process with the assistance of a "Regulatory Advisory Panel" (RAP) that will be comprised of diverse stakeholders, including local government representatives.  Over the next few months VACo will update members on the process.
Below are the workshop speakers and their linked presentations.
• Mike Skiffington, Program Support Manager, Department of Mines, Minerals and Energy | Spoke about regulatory framework
• Scott W. Kudlas, Director, Office of Water Supply, Virginia Department of Environmental Quality | Spoke about environmental review issues
• Eric A. Gregory, County Attorney, King George County | Spoke about county roles, considerations and experience
• Stephen G. King, Deputy County Administrator, Rockingham County | Spoke about county roles, considerations and experience
• Greg Buppert, Staff Attorney, Virginia Office, Southern Environmental Law Center | Offered information on tools to address fracking issue
VACo thanks Schneider Electric for their sponsorship. Schneider Electric is a global specialist in energy management and energy infrastructure improvements.
Visit VACo Training for information on other educational events. Contact Phyllis Errico or Larry Land about the fracking workshop.