October 21, 2014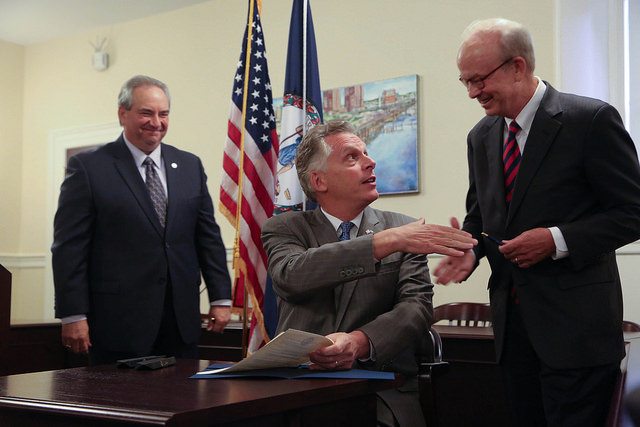 Photo from Governor McAuliffe's Office
With ethics reform prevalent in the news especially after Governor Terry McAuliffe announced late last month the formation of a commission to study the issue, the Virginia Association of Counties is excited to host Rick Boucher as a keynote speaker at its 80th Annual Conference on November 9-11.
Boucher and Bill Bolling will serve as co-chairs for the Commission to Ensure Integrity and Public Confidence in State Government, which was established by Executive Order 28 on September 25. Fairfax County Chair Sharon Bulova also will serve on the commission.
"I'm honored that the governor has asked me to join with my friend, former Lieutenant Governor Bill Bolling, and other members of the commission in recommending a set of reforms for Virginia's ethics laws," Boucher said. "I'm impressed with the quality of the other members of the commission, who are distinguished and widely respected on a bipartisan basis. Our goal will be to draft a set of legislative recommendations that will enjoy the bipartisan support of members of the commission and are broadly reflective of the public's view that strengthening of Virginia's laws governing official ethics is necessary. I very much look forward to the work we have before us."
Boucher will address VACo members at the Opening General Session at 8:30 a.m. on Monday, November 9. Boucher served in the U.S. House of Representatives for 28 years and the Senate of Virginia for seven years. During his congressional tenure, Boucher served on both the House Energy and Commerce Committee and the Judiciary Committee, chairing the subcommittees on energy and air quality; and communications, technology and the Internet. He carved out a role as a trusted bipartisan leader on critical issues including telecommunications and Internet policy.
The executive order asks a 10-member panel to provide the governor with recommendations in December 2014 on ethics laws and policies with the goal of pursuing legislation during the Virginia General Assembly's 2015 session.
"I am creating this commission because it is imperative that we foster a culture of professionalism in state government that attracts future leaders of the highest caliber," McAuliffe said during the announcement at the Capitol. "I want to guarantee superior service to the next generation of Virginians. And I want to establish an enduring culture of integrity on which this state can prosper. These are not merely my values. They are the essential covenant of democracy."
Besides Boucher, Bolling and Bulova, the other commission members are Viola Baskerville, John T. Casteen III, Christopher Howard, Susan A. Magill, Courtney M. Malveaux, Joe T. May and John Sherman, Jr.
The appointees were selected based on their knowledge of government operations and the history of the issues they will examine.
"They are bipartisan and represent a cross section of political philosophies," Governor McAuliffe said. "They are pragmatists and problem-solvers. Most important, they are individuals with the highest credibility and integrity."