March 6, 2014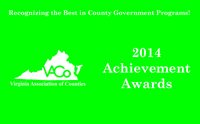 Dear VACo Members,
It's time for the 2014 Achievement Awards Program. Any county department is eligible to compete so apply now!
Award plaques will be presented at VACo's Annual Conference on November 9-11 in Bath County. VACo representatives also visit Board of Supervisors meetings to present certificates to the winners.
The winning entries will be recognized on VACo's Achievement Awards website page, in a news release sent to statewide media outlets and in an Achievement Awards booklet.
Entries must be delivered to VACo by June 2.
All entries are now required to be submitted in electronic form. No paper copy submissions are necessary. The electronic copy should be a PDF or WORD file.
The judges for the 2014 event will be announced soon. Last year's judges were Tedd Povar, Associate Director of the Virginia Institute of Government; Wendy Wingo, former Botetourt County Supervisor; and George Drumwright, retired Henrico County Deputy County Manager for Community Services.
VACo received more than 240 entries over the past five competitions. Last year's "Best Achievement" winner was Orange County for "Project M.T.T.I."
VACo encourages all counties, big and small, to enter the 2014 Achievement Awards Program.
Click here for registration form.
Click here for Achievement Awards website.
Click here to browse all of the 2013 entries.
Click here to view past Achievement Award winners.