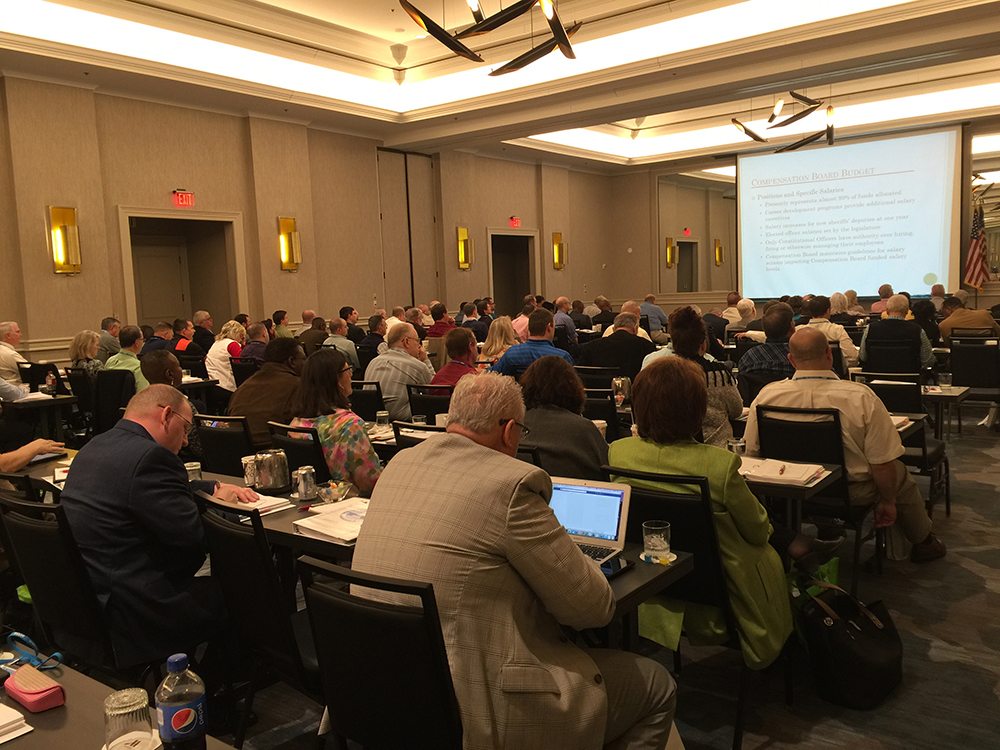 Nearly 200 new and returning county supervisors, administrators and topic experts gathered in Richmond January 8-10 for the 2016 VACo County Supervisors' Forum. VACo Board President and Surry County Chair Judy Lyttle kicked off the event welcoming members and introducing them to VACo. Speaker of the House William J. Howell then gave attendees practical yet humorous tips and advice, including urging them to become involved in the association and utilizing all it has to offer.
Saturday started early and lasted until dark. Attendees heard from topic experts on issues ranging from information on Constitutional Officers to the budgeting process. The day concluded with a new feature, designed to mimic VACo's Summer Regional Meetings. Attendees were grouped in general regions to discuss issues affecting their counties and possible solutions.
Sunday was a half-day of education, introducing attendees to several of VACo's steering committee topics. If you haven't already, remember to submit a Steering Committee Interest to participate in the legislative process. Sunday ended with another new feature, "Words of Wisdom" where attendees heard different perspectives from key staff and partners.
VACo is here to be your educational resource as you serve your county.
Please let us know how we did. Don't forget to turn in your evaluation found in your attendee bag. Your responses help us better plan future events. Please submit completed forms to Amy Sales by email at asales@vaco.org, fax to 804.788.0083, or mail to 1207 East Main Street, Suite 300, Richmond, VA 23219.
Remember to register for our February events!
February 10 is the Rural Caucus Reception and Dinner, a collaboration between VACo and The Rural Center of Virginia designed to address topics specific to rural Virginia.
February 11 is VACo County Government Day. Come join us to hear Governor Terry McAuliffe talk about state issues affecting counties and get a legislative briefing before attendees are charged with going to the Capitol to meet with their representatives. Click here for the agenda.
February 12-13 is VACo County Chairs' Institute. Board Chairs are invited to this one-and-a-half-day seminar where they will learn responsibilities and issues unique to their role as a County Board Chair. Click here to see a draft agenda.
Hotel room rates for all events start at $129. To make reserve a hotel room, call 1-800-THE-OMNI by January 20 with this code: "VACo County Government Day 2016," or at this link VACo County Government Day 2016.
The VACo Team thanks all of the attendees and speakers for taking the time from their busy schedules to participate in the 2016 County Supervisors' Forum. We hope to see you at our other 2016 Educational Events, listed on our Calendar of Events.
THANK YOU FOR ATTENDING THE SUPERVISORS' FORUM

Please watch our event video
Supervisors' Forum Webpage with Videos and Presentations
VACo Contact: Amy V. Sales, CMP