Exhibiting at VACo's Annual Conference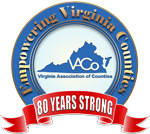 The exhibit dates are Nov. 9 & 10, 2014.
Click here to download the 2014 EXH_APPLICATION (Online registration for exhibitor space is not available.)  Click this link for a fillable .pdf exhibitor application: 2014 EXH_APPLICATION-fill form
Applications are still being accepted for booth space at the 2014 conference. Exhibitors that had booths in 2013 had first dibs at renewing their booth space. The renewal period is from immediately after each conference through March 1 of the following year. If you haven't renewed your space yet, do so now to ensure a space at this year's conference.  Exhibitors who register by Oct. 1 will be included in the print copy of the conference program book.  Remember – in order to be on the list to receive the Omni Homestead room reservation form, you must have submitted a 2014 exhibitor application, along with a minimum deposit of $350.
SOLD OUT  (as of 10/28/14)  The exhibit hall is completely sold out.  A Wait List will be started for those willing to be ready to go at a moment's notice in the event of a last-minute cancellation.  Fill out and submit an exhibitor application to be added to the Wait List. Full payment is expected at the time of booth assignment but your card will not be charged unless a booth becomes available.
Wait List for Booth Space —  When all booths are sold, a Wait List will be started. In the event of a cancellation, the next name on the wait list will be notified that a booth is available.
Attendee Name Tags –– All conference attendees, guests and exhibitors must be registered and wear their name badge for admission to sessions, exhibit hall, and other activities during the conference.  If you lose your name tag or forget it in your room, you can obtain a new one at the VACo Registration Desk.
Attendee Lists — To assist you in promoting your booth at the 80th VACo Annual Conference, the attendee list will be available  on October 16, 2014.  The list will be e-mailed in an Excel spreadsheet to confirmed exhibitors.  Updated lists will not be sent out; however, a final attendee list will be available as a handout at the VACo Registration desk, or you may request the final list after November 18.
Please Note:  Only exhibitors who have paid their booth space fees in full are eligible to receive the pre-registered attendee list or the final attendee list, and only those exhibitors who have set up their booth space at the conference will be eligible for the final list.  No-shows are not eligible to receive the final attendee list.
Lodging:  The Omni Homestead Room Reservation form will be sent to the contact person of record for all confirmed exhibitors on Monday, June 16th.  Rooms are limited so exhibitors are strongly encouraged to fax the room form back to the Homestead as soon as possible.
Alternative Lodging – 2014 ALT_Lodging Flyer
NEW EXHIBITORS:  Please take a moment to review the  VACo Lodging Guidelines, especially number 4.
2015 Exhibitor Application/Agreement:  2015 EXH_APPLICATION   Applications to exhibit at the 2015 VACo Annual Conference will be accepted beginning Nov. 12, 2014.